autocross
03-07-2011, 11:58 AM
---
Hi `Dustin,
I feel like I'm driving a AutoCross course everytime
I'm on the road...Instead of cones, they have moving
targets (cars/trucks, bikes/people etc: )
I think auto cross would be fun `if you have a good ride,
and can afford the fuel for having `fun.
<TABLE border=0 width="100%" bgColor=white><TBODY><TR><TD bgColor=orange vAlign=center width="60%" align=middle>
What Is Autocross?
</TD><TD align=middle>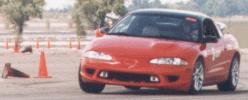 </TD></TR></TBODY></TABLE>
<!-- Main Page Contents Start Here ################################################## ##### -->
Autocross is a motorsport that consists of individual timed runs through a course laid out (using traffic cones) on a concrete or asphalt surface. The object is to drive through the course as fast as possible without missing any gates or hitting any cones.
While autocross events typically involve lower speeds than other motorsports (60 - 90MPH) the number of driver inputs per second is comparable to Formula One.
Much like drag racing, autocross has a low cost of entry. Most sanctioning bodies only require a car in good mechanical shape, and an approved helmet. There is usually a class for every car manufactured, so that cars of like type compete against each other.
The largest autocross sanctioning body is the
SCCA
. The SCCA holds the largest amateur autocross event in the world (The National Championship in Topeka, KS every fall) and also sanctions a professional series called ProSolo.
In SCCA-speak, "autocross" is known as Solo 2 - Solo 1 being high-speed timed events like hillclimbs.
03-07-2011, 11:00 PM
---
You would be at a sever disadvantage becuase beign FWD
you can only break and gas as much as the other will alow and weight transfer only helps comming into the turn,

but it still sounds like a blast to me we have a set of cloverleafs just down the road from me that i try to fly around by far the best was the monte, the mystake would start pushing the front end out at like 45 so i'd have to let off saturns not bad but does the same at about 50 monte was sticking at 60+
03-08-2011, 06:35 AM
---
Nah, there are many people around here that auto x their fwd cars. Sometimes they beat out the rwd ones because the coners are so tight they would spin. That would be the only disadvantage I see is the wide turning radius of the w-body.
03-08-2011, 07:02 AM
---
---
Last edited by Space; 03-08-2011 at

07:05 AM

.