Small Interior Changes
06-08-2011, 06:15 PM
Join Date: Apr 2010
Location: Mentor, Ohio
Posts: 10,955
Small Interior Changes
---
So, when I bought my blue and silver Monte, I was really after an '03 Pace Car (I love the blue and silver, the high sport package and a slightly custom/unique interior two tone interior).
I was not able to find an '03 Monte Pace Car I could afford, but I'm VERY happy with the Monte I ended with. Though, I have felt it needs a little something to set it apart on the interior (as almost EVERY Monte I see has a full black interior). So I've been after a couple of Pace Car interior parts (I was lucky enough to nab a Pace Car steering wheel).
Within maybe the last month, I saw a post by Montelicious where she wanted some black pieces to swap into tan interior (giving a two-tone effect). I found GM made a Pewter interior option for the Monte. So I went searching for the Pewter door handle bezels and speaker grills. I found I could order them brand new pretty easily. They just arrived today and they are a dead on MATCH for the Pace Car wheel!!
Here are the pieces (and the wheel I got a month or so ago):
The original rear desk (sorry, no pics of the original door before I swapped the pieces):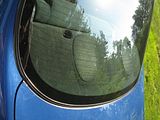 And now with the pieces installed:
I am waiting until I can get together with a friend of mine who used to do air bag service to swap the wheel (he has all the tools to remove the bag and the wheel safely to install the Pace Car wheel). Here's how things are looking so far:
FYI - I damaged the original rear speaker grills on removal. I am not sure anything would have prevented it, the plastic was so thin and brittle. It would have been better had I waited for the car to be cooler (and not blazing hot from sitting in the sun). Many tabs broke, and one took some chipping on the edge.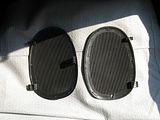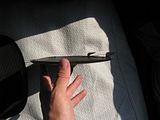 06-08-2011, 06:29 PM
---
Looks good. I always liked my JG edition interior. I would probably swap some door panel parts with someone who wanted to do the front and rear side panels. Give me some color. I have the light so most have dark and would be a good swap. Any takers? I thought about switching some with my Mom's 06 but unsure yet.
Good changes. I like. Its the small things that make the big changes.
06-09-2011, 09:02 AM
Join Date: Apr 2010
Location: Mentor, Ohio
Posts: 10,955
---
Thanks guys!!
My ONLY regret was not waiting until the interior was cool to pop the speaker grills. Had I waited, I MIGHT have been lucky and not had them crack on me.
Now I'm anxious to pop in the wheel! Heck, today I drove our '05 Impala and looked at the air vents and thought "Hmm, pewter vents might look awesome too, I wonder if Impala vents would fit a Monte? Or could the front fins be swapped".... I know the salvage yards have '00-'05 Impalas once in a while, I may scout these out and see what happens (my guess, the vents won't fit). Before someone chimes in, I am aware the vents are plastic fused to the front dash piece. I also know the fused spots can be broken and re-glued.
This really closes off my quest for Pace Car pieces (they are still cool, but hard to come by and far from cheap due to their uniqueness and rarity). Not to mention, shipping is horrible for pieces that big. I am really liking these changes. Small, simple, cheap and unique!
06-09-2011, 10:21 AM
Join Date: Apr 2010
Location: Mentor, Ohio
Posts: 10,955
---
I was tempted to change out the door pull, but I like the contrast. Someone recommended I swap the power window trim piece, but I'm not sold on that idea (if I did ANYTHING else to the door, I'd replace the lower speaker grill to pewter).
I was amazed how inexpensive the brand new pieces were, I could NOT be happier. Sure, I could wait to find them in a salvage yard, but good luck waiting for a non-black interior package to show up (or in my case, good luck on a 6th gen Monte showing PERIOD).
I have a couple other ideas I'm toying with, but eh, I'll share those when the time's right....