Installing a Remote Lead in 6th Gen Montes
07-26-2011, 12:44 PM
Installing a Remote Lead in 6th Gen Montes
---
After searching the forums for awhile and finding several threads that led to "not-so-helpful" results, I thought I'd post what I have found.
**I did this on a 2000 Monte Carlo SS
WITHOUT
a factory amp. The purpose of this install was to create a remote lead for my mono amplifier in order to run an amp and sub with the factory stereo still installed. **
The ideas for the adapter and fuse came from member Milhouse, I'm hoping this will make it easier for people in the future **

I purchased a fuse tap off of eBay that looks like this: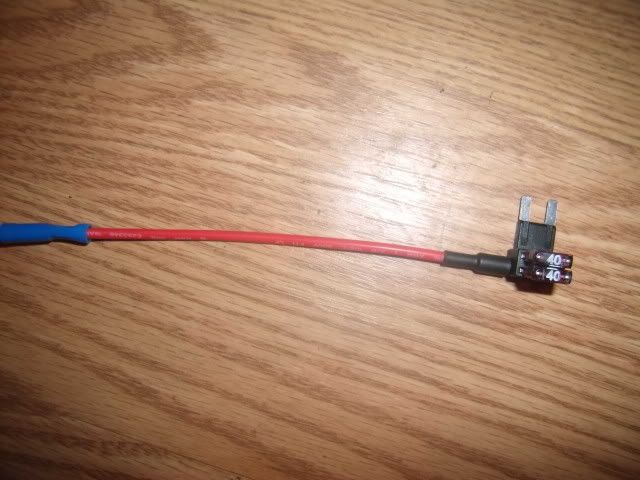 After looking through all of the fuses (on both the driver and passenger side) and testing them with a lighted detector, I decided to install the fuse tap and remote lead in the driver's side fuse panel in the
10A CIG/AUX
spot because I found that it was dead when the key was off, but was live when the key was in ACC or ON.
Here's what the fuse tap looks like installed, I think it looks a lot cleaner than just ramming the wire in:
Then I ran the remote lead behind/under/through parts of the dash so as to have it hidden completely. It comes out on the passenger side underneath the glove box so that I can run it along with my power wire for an easier install.
Comments/Questions/Suggestions?
--Zach
---
Last edited by Furder2010; 07-26-2011 at

01:40 PM

.
07-26-2011, 01:43 PM
---
Milhouse, I apologize!! I failed to mention that the adapter was your idea...I have changed the original post to reflect that. When I found that post awhile back, I thought it was awesome (and I posted that on the thread). However, these last couple of days I could not seem to find the article anywhere so I thought I'd try to help others er
And tbh, I never fully read that thread anyways so I was thinking that fuse you were referring to was the radio fuse, but it would not work there. I did not see that you had cleared up the confusion. Sorry again mate!
07-26-2011, 03:26 PM
---
That wasnt my goal, to get credit in the thread, I was just putting it out there that I had infact given this same info in a previous thread recently since you said you only found not so helpful posts about it after searching. But thanks, I appreciate it
Thread
Thread Starter
Forum
Replies
Last Post
Interior/Audio/Visual Electronics
Interior/Audio/Visual Electronics