Am I being Ripped off?
04-10-2012, 05:13 PM
Am I being Ripped off?
---
So I picked up my new Thrush Mufflers today!!!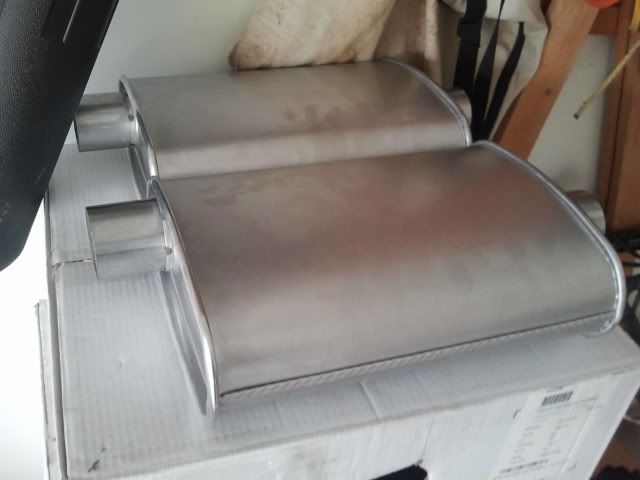 I went around to a few places to get some quotes first place I went suggested by a Subaru Club member (Brother's friend) quoted me around

$600-700

that would include a whole exhaust system redone and res Delete. and around

$400

for plain muffler swap. (This guy's welds are AMAZING!
)

The next place I went for a simple muffler swap quoted me around

$300


Mediocre shop.

What do you think is a fair price... the underside is Stock and I'm keeping my chrome tips currently on.
04-10-2012, 05:21 PM
---
Justin,

I did my Magnaflow cat-back swap and resinator delete myself with the help of my brother-in-law. I just had to have a SS pipe made up to replace the resinator and buy my brother-in-law dinner! It really isn't that hard
04-10-2012, 05:28 PM
---
I'm in Canada so our pricing is traditionally a little higher... At a reputable shop, Magnaflow performance mufflers installed will run about $300-$400 (no tips, no resonator delete)... Hope that helps...
04-10-2012, 05:55 PM
Join Date: Apr 2010
Location: Mentor, Ohio
Posts: 10,955
---
Since you have the mufflers, it should be rather cheap (as you are paying for labor and any additional pipe/materials they require to do the job). I know a friend had a res delete on a '97 Grand Prix and it was about $100 (shop supplied the pipe, welded it in and fixed a hanger).

I'd be curious how long they feel it would take to do the job you're asking for, as I would think labor would cost more then materials (again, you have the mufflers, so I would think materials on the shop's side would be minimal). $300 may not be too far out of the question. But $600-$700?? For that price you best be getting a completely NEW exhaust!
04-10-2012, 06:42 PM
---
I agree
Had my resonator removed and pipe put back in for $20. Doesn't take a highly qualified shop to do what you are asking. Look at it when done and see if there are any leaks. I would check some smaller shops. Just because they aren't all fancy doesn't mean they do crappy work.
04-10-2012, 08:15 PM
---
He said whole new exhaust and res delete. So yea 600-700 not bad. Takes time and skill to bend pipe. Plus if it is a good shop your paying for the garantee its done right and will not need redoing soon. labor alone in my area varies from $50 an hour to $120 an hour and thats probably a 3-4hr job plus pipe.