2003 "Exploded view" ...
11-19-2011, 05:56 PM
2003 "Exploded view" ...
---
Is there a place on the WWW I can go to see an exploded view of the entire exhaust system for a 2003 Monte SS? Obviously a 3.8L.

If it is the same as a 3.8L from 2000-05, then so be it.

I have genuinely been looking for a month now, & for over an hour here this evening, & I get nothing but parts pages, etc. I would love to see a nice schematic.

I am MOST interested in "what is there" from the factory exhaust manifold(s) through the end of the resonator.

Zeke
'11
11-19-2011, 06:32 PM
---
It definitely does, Sir.

But (anyone) riddle me this: which one represents the "down pipe"? Let us say one of the pieces is #16, & the other is #20 ...

I know #16 is the cat, but I think you know what I mean, & I think you are going to tell me that "#20" is nothing more than a crossover pipe of some sort ...
11-19-2011, 07:01 PM
---
11-19-2011, 07:13 PM
---
Originally Posted by
Zeke
Yes "Down pipe" with Cat..
11-19-2011, 07:40 PM
Join Date: Apr 2010
Location: Mentor, Ohio
Posts: 10,955
---
Looks like you got your answers, but here's a pic of my stock down pipe next to the ZZP 2.5" downpipe with high flow cat.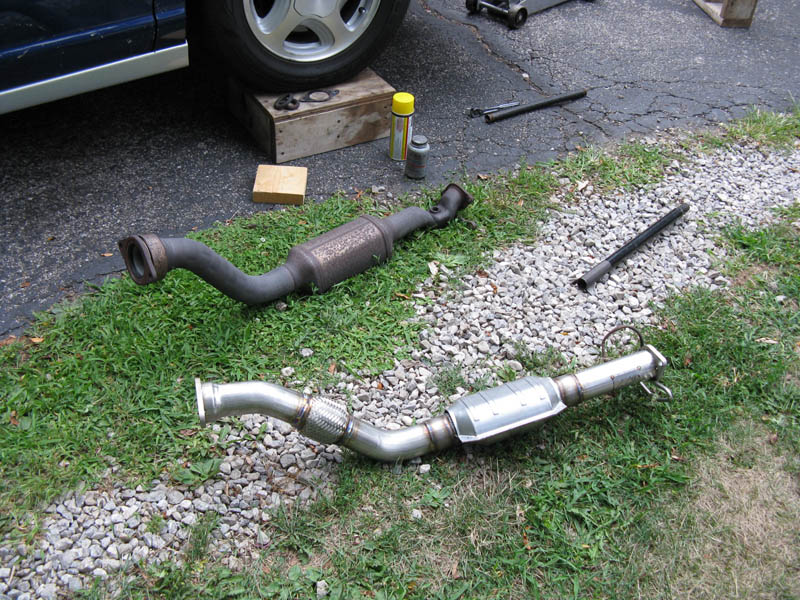 I have some more pics here:
'04 Monte Carlo SS - ZZP Downpipe
11-19-2011, 08:34 PM
---
There's that cute 'lil u-bend!

I have not had a chance to get back under mine since I heard about those little boogers. Can I ask how much you spent on the pipe? And was it just the straight up 2.5" direct-fit deal? (I did read your website blog ...) But they offer sooo many options, etc.
11-19-2011, 09:39 PM
---
You can find ZZP's d/p's here:
ZZPerformance - ZZP Downpipes #
Aluminized 2.5" d/p w/cat costs about $170, and the stainless ones go for about $200. I recommend stainless. However, at that price you can almost get a set of headers, and headers come with a d/p. Food for thought.