Repair Guide: How to change rearview mirror lights - 6th Gen
09-08-2009, 08:33 AM
How to change rearview mirror lights - 6th Gen
---
This is a question I've been seeing pop up a lot lately. Everyone is always wondering the proper way to take the bulbs out of the rearview mirror and change a blown out bulb, or to switch it out for an LED (size 194). Well over the weekend I had replaced my rearview mirror because the liquid inside of it started to evaporate and if it sits like that too long they can explode / leak the fluid on your interior and completely ruin it.
I didn't want to ruin my interior, so I bought a new mirror off of MoradPartsCompany, and when it came in I decided to do a swap and then take a few pictures of my old broken mirror to show people how to change their bulbs.
(pardon the quality of the pictures, my digital is acting weird, so I used my blackberry and didn't realize how bad the images looked)
Let's start with the basics. Underneath your mirror this is what you will see: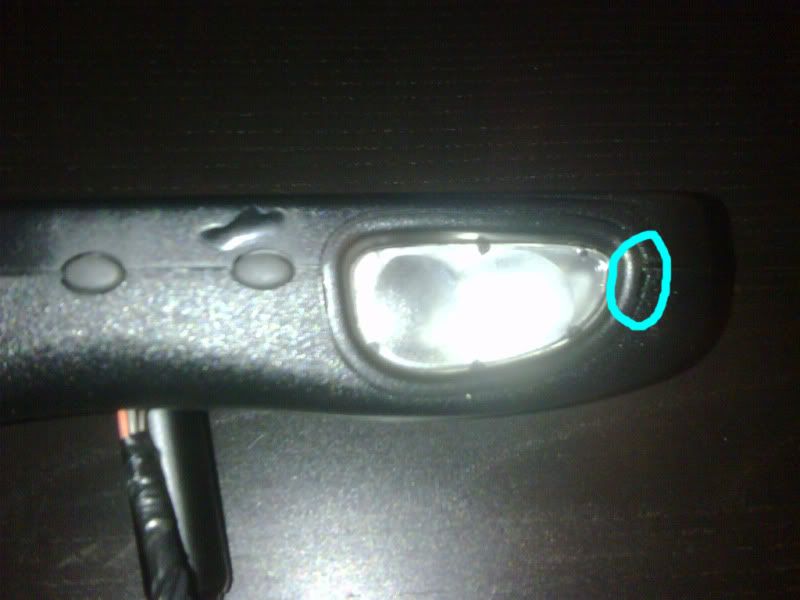 Notice the little bubbling around my buttons? That makes me VERY glad that I got my mirror when I did, because it seems like this one was going to leak soon. PHEW!
But on topic: Notice the area that I circled? There is a small hole there, that if you use a small flat-head screwdriver (I use one from an eyeglasses repair kit that I have) you can stick it in there, and slowly pop out the housing for the light.
I switched housings on this picture, because I already had this one out, so it was just easier for me, but still not that I'm using the hole towards the outer side of the mirror. This is after you stick the screwdriver in, and start to pull the housing out of the mirror (they are larger than you think)
Here's the housings popped out of the mirror. Now you have easy access to the lightbulb on the inside.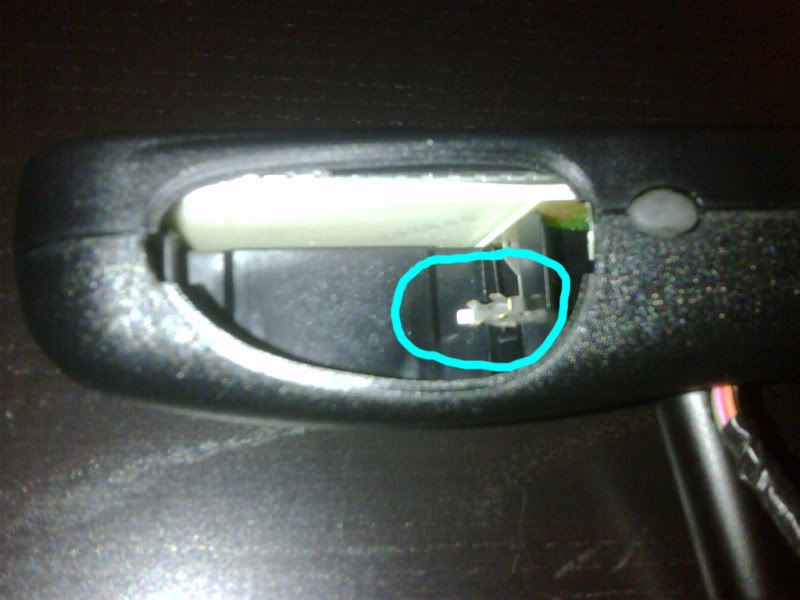 I already took the bulbs out of my old mirror (LED) to put into my new mirror, but here is a shot of the socket. If the LED doesn't light up, just flip it around it could be in backwards.
And finally here is a picture of the size of the housing. I include this because as you are pulling on the mirror you will feel like you are going to break it, though you aren't. It's just the size of this housing that you have to pop out, it's a little awkward, but it's not hard.
It also shows the little hole in the housing that the light bulb sticks through, so when you put it in, line up that hole with the bulb and insert that side first, then snap in the outer side.
Congratulations, you changed out your map lights
---
Last edited by ChibiBlackSheep; 09-08-2009 at

08:35 AM

.
09-08-2009, 08:38 AM
---
..
Hi `Mike, Super Thread for our Monte Carlo Family. It happens to many Chevrolet Monte Carlo's, especially during super hot weather. You should made this a `Sticky soon : )
Thanks for taking the time to create/post/share. `Space
09-08-2009, 11:40 AM
---
Thanks space
I made it a sticky and put it in the how-to section. Hopefully this helps a lot of people now, and maybe I'll try to get my digital working and put up newer pictures haha