My New(er) Project - Eventual Build Thread
10-24-2014, 10:44 AM
My New(er) Project - Eventual Build Thread
---
Hi all, as many of you have probably seen, I now have three cars in my sig as opposed to the Monte and my recent acquire, my WS6. Now I know this isn't a Monte Carlo, but I thought a lot of you guys would enjoy this.
There's a little story to this one, so bear with me, if you don't want the story, you can skip this next quoted area.
My grandpa passed on July 30th of this year in a semi accident, which was obviously unexpected and has lead to a few rough months for me.. (this followed my step-grandpa passing from cancer 2 months prior and my grandma being in the hospital since the day of the funeral and almost losing her battle multiple times, finally getting out around the 5th.) So this was obviously a hard time for me, I'm still having trouble coping with it.

After my grandpa passed we were faced with the task of taking care of his property and assets and such as he did not have a will made up, this was in the process, but never fully completed from what I understand. He had a lot of stuff, a few garages packed full and a lot of land with various items on it, along with multiple other things, so cleaning all of this was certainly a task.

Of this stuff, there was a lot that I inherited during the cleanup process (I was the main nephew cleaning, my brother did when he could and my younger cousin did all that he could to help). The stuff that I inherited for the most part was tools, large quantities, that my uncles had told me to take or it would be left behind.. and stolen, judging by the neighborhood we were in.

This is where this car comes into play, it was left behind in a garage and no one wanted it. I knew my grandpa was a big AMC guy and I really wanted to build something in his memory, this car was the perfect opportunity and my uncles gave me a fair price on it. I knew I had to take this and start the restoration in my grandpa's memory, he had owned AMC's all his life and he deserved this.
So onto the car...
The car is a 1966 AMC Rambler Rebel Classic. Here are some specs on the car:
64,xxx miles
Factory 327 4BBL Car
Fully optioned
Disc Brakes in front, Drums in rear/Power Brakes
AM/FM Radio
Power Steering
Air Condition
I dolly'd the car to the friend's house since I no longer had room at my house with my grandpa's other possessions and I started wrenching to see what I had gotten myself into.
Here's the car the day we pulled it out of the garage, first time it moved in 20 years..
It sat here for a couple of weeks before I told my dad and uncles that I really wanted it and was willing to pay. After that we went and picked it up and took it to my buddies house.. I started seeing the condition of the body and what work was going to need to go into it.
Here's some of the spots that will need attention:
Finally to my buddies place:
Threw a battery in and there was life!
Big old hearty 327
Ready to get running..
It had a 2BBL Carb which was a factory option, but it had a blue intake which indicated 287, but the engine in this car was a 327.
After running the vin, it was brought to my attention that this Rambler was one of the 3% of 327 4BBL cars in 1966. Pretty awesome! Only problem was that finding a 4BBL intake was near impossible.
10-24-2014, 10:44 AM
---
We pulled the plugs, sprayed miracle oil in the cylinders and got it to spin by hand a couple of times, put new plugs in and put some gas in the carb... and she wouldn't turn.. we finally found that we were not getting spark at the point, so some ignition work would have to be done.
The stereo however, worked even in the garage
(click for vid)
It was time to order the ignition parts, and luckily they came in by the next weekend.. (some special aspects of this car made some parts difficult to find)
I then spent a couple hours on a Saturday installing everything and getting it ready to spit some sparks
After some trying, we put some fuel in the carb and this is what we got.. (click for vid)
This was great and it was now time to run some fuel into the carb to see if we could get some idle..
We did this with an external fuel tank and couldn't get any fuel to the carb. Not surprising, the common issue of the fuel pump diaphragm rotting out was the issue.
Since I want to do an accurate restore on this car, I wanted to get the proper fuel pump.. this proved to be almost impossible, until I found one for a nice lump sum of $170.
We also found out that the water pump was seized, we were able to break it free, which resulted in coolant going everywhere.. so a new pump was obviously in need.
I ordered the parts and got them in, in time for the next weekend..
The water pump ended up being incorrect (thanks Autozone), but the fuel pump was perfect and was installed..
It was time to start cranking again and see what we could come up with..
(click for vid)
This was awesome news and she sounded and idled pretty well when the carb wasn't initially leaking.
I then cut the exhaust off, as I am going to go with true 2.25" duals and dump behind the rear wheels..
I also pulled the wheels off to get a look at the brakes and see what I was up against... this is when I learned that I had front Bendix 4-piston brakes... This would multiply the brake costs by 4, but was a really cool option to have!
---
Last edited by red04montels; 10-24-2014 at

10:48 AM

.
10-24-2014, 10:48 AM
---
Now it's time to wait for parts and find more parts...
I currently have the following parts/am waiting in the mail for the following parts:
Water Pump
Carb Rebuild Kit
Brake Calipers
Brake Pads
Rear Brake Cylinders
Brake Shoes
Drum Hardware Kit
Rear Brake Adjustment Lines
Drums to get ground
Master Cylinder
Brake line from master to front t-splitter
I was also fortunate enough to come across this rare piece of art on a steal of a deal...
My upcoming plans are as follows:
-Get the car running and driving before snow fall. I plan to drive it to the side of my house where it will be covered for the winter.
-Rebuild the brakes in the next week and a half.
-Carb is being rebuilt on Tuesday or Wednesday.
-Sandblast and prep the 4BBL Intake Mani for next season, when it will get a nice porting and a Holley 600 CFM 4BBL Carb.
-Tune the car.
-Do a massive burnout on video.
Here is the carb that I'm thinking of getting to spice up the engine bay a bit and pick up around 30 horsepower from what I hear...
I will continue to update this thread with my progress!
Thanks for checking in guys!
10-24-2014, 01:00 PM
Monte Of The Month -- February 2013

---
Mitch:
Nice Find! My Grand father on my dads side was a huge AMC owner..
at 1 time... He had that very same car. (Rebel) He was told the body design was a cross of the 1964 ChevyII nova and and 1963 oldsmobile tempest. Thus the rebel was born!
My Grand Father also owned a Javelin and an AMX .... a Marlin
Pretty cool Cars back in the day!
10-24-2014, 02:45 PM
>Thanks for sharing<
---
Hi `Mitch,
I'm sorry to read about your loses of love ones
& I hope that your grandmother can find some peace and comfort in her remaining time in her human life.
It's always sad to lose those that are loved in your life. I have been raised by senior's and many have departed their human life & hopefully to a better spiritual-eternal existence.
It is a reminder when someone dies, that we shall follow in a unknown time in our life. I was taught this since my beginning & also it's a reminder to extract the best that we can from each day that we are given. I hope that you can (?).
Your mission to restore your grandfather's Rebel is a great project to keep your grandfather in your heart & in your mind. I admire your aspirations to honor him in this fashion.
Thanks for sharing your story & your project. I look forward to your future updates. I hope that you can also take this experience and lesson to make the most of each day of your life that you are given.
I hope that you also can find peace with your loses & also happiness in your `life. Don't forget to enjoy your `journey. I'm sure that you grandfather would want that for you! Wish you the Best!.

`amen
11-05-2014, 11:03 AM
---
So, it's been a while... time for a needed update..
( Oct/27/2014 )
Early Saturday morning, a couple weeks back, I took my brother for a ride in the Trans Am and took him out to check out the Rambler. I let him start her up and get some revs in and hear what she sounded like. He had a big grin on his face and seemed to enjoy it a good amount. I also let him put the vinyl on that I had made up for the car..
I also got my calipers in last week, so I thought it was time to pull the old ones off and send them off for the cores... unless someone here wants them. (these guys are not light..)
that's me getting the old calipers off, don't hate on my jack stand placement, it wasn't ideal, but it was temporary, when I get the new brakes on I'll do it properly since I'll be under the car
The original 4 pistons are off and you can now see the condition of the rotor. The picture doesn't do it justice, it is in decent shape and the rust if mainly surface that will come off with the first pass of a brake pad..
Also, I was trying to save the current lines, but I ended up just cutting them. They were extremely rusted and not worth the effort of saving. So, I will be running all new lines and hoses, aside from the rear possibly, those look like they were just replaced, no corrosion at all.
( Nov/03/2014 )
The discs were slightly rusty..
I got all of my brake parts in.. for the fronts at least, I haven't given the rears a shot yet.. Calipers are in the car at the time of this pic..
The thing that comes with wires out of the bottom of it in the master cylinder, is that the brake light switch?
Calipers/pads/lines and hoses all run to the fronts...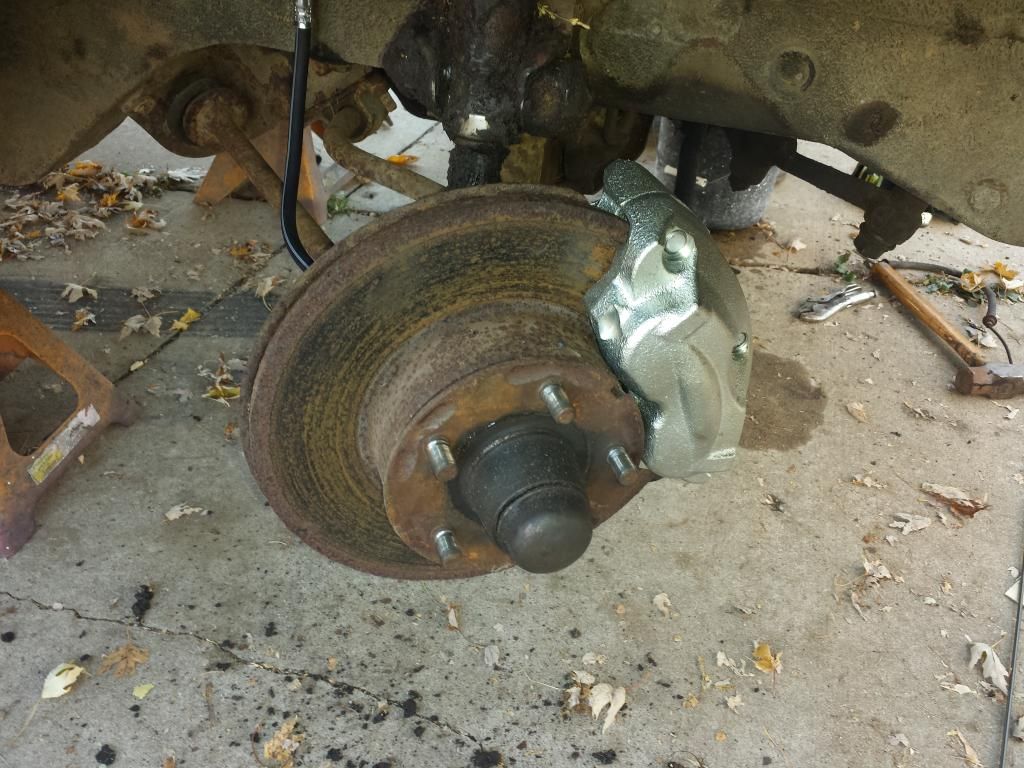 Master installed, lines run to the new t-splitter... new and easier location to work with, looks similar to stock...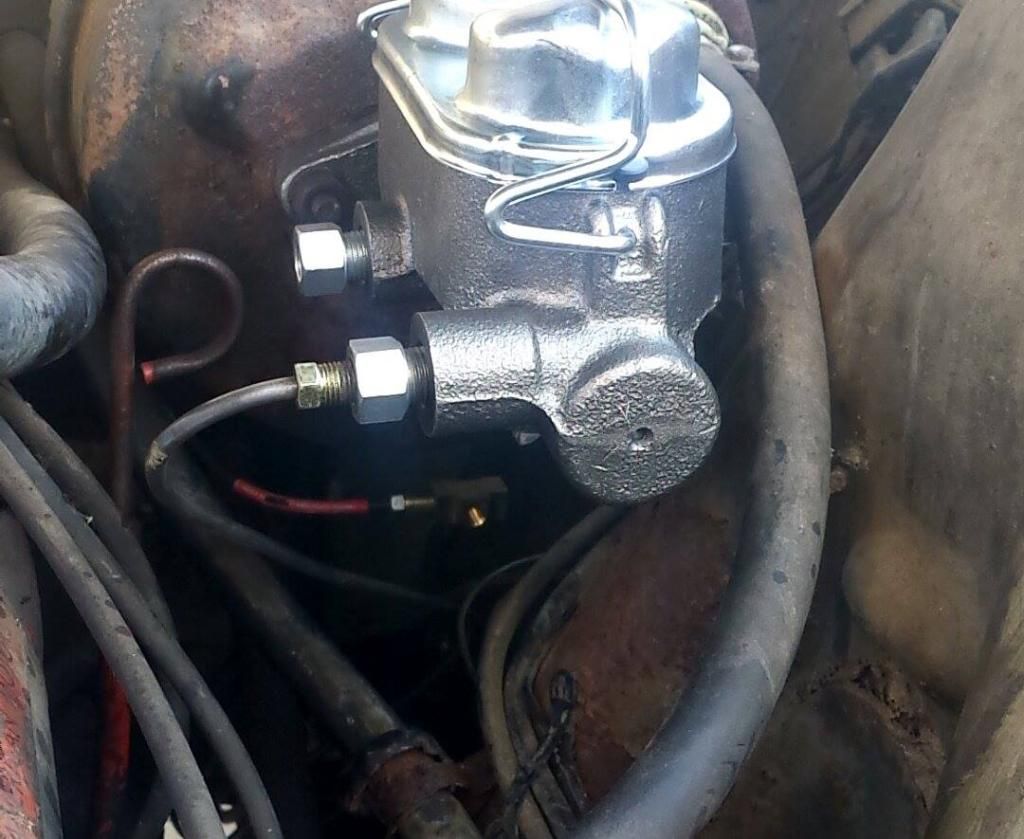 I also put in the new waterpump, thermostat, coolant and belts..
So after all that... (I apologize for the terrible pic)... I went for my first ride, took her to the nearest station with 91 (no ethanol)... ran great on the drive there, ran strong, new water pump, thermostat and coolant let her run nice and cool the whole time..
Got her all the way home (10 miles) with no issues and parked her... took this pic leaving this morning..
This was the first attempt to put her into gear.. she takes gears a little rough, hoping this will smooth out as I drive it some more.. (click for vid)
Slight walk around... (click for vid)
Thanks to everyone that helped me get her on the road, it's been a good ride and I'm happy to do it all for my grandpa.
( Nov/5/2014 )
I took this pic this morning...
Was working on the car a bit last night, to fix the hard shifts. This is the TV cable, it had a good amount of tension on it creating hard shifts, it's currently stuck, but I will be trying to free it up here soon to smooth out those shifts. It works as a throw down cable and adjusts the pressure within the transmission.
I'm going to go for a ride tonight to see how it goes, also going to run it through first, I've only hit 2nd and 3rd since it starts from 2nd at a dig.. it's like that from the factory.
Overall, I've learned a lot and had a bunch of fun... the restore starts soon!
11-05-2014, 12:12 PM
---


Currently it's cut at the y-pipe haha
11-05-2014, 03:51 PM
---
You've come a long way in a short time
looks like you have done some nice work on getting it up and running. Please keep us posted on your progress as I love seeing something get restored to be driven again, especially with back story like yours on the car.