Went to the 1/8 mile drag strip
07-03-2010, 10:22 PM
Went to the 1/8 mile drag strip
---
I took the Monte to Steel Valley Dragway in Ohio today. Its an 1/8 mile strip near Stubenville. It was the first time I have run on a dragstrip so it was a new experience. I made a total of five runs, my best being my first run at 10.53 and my worst being my second to last at 10.64. It was about 90-95 degrees today so my times go worse as it heated up outside. I had some good reaction times and some terrible ones but I got the hang of it eventually. Here are my slips from the runs.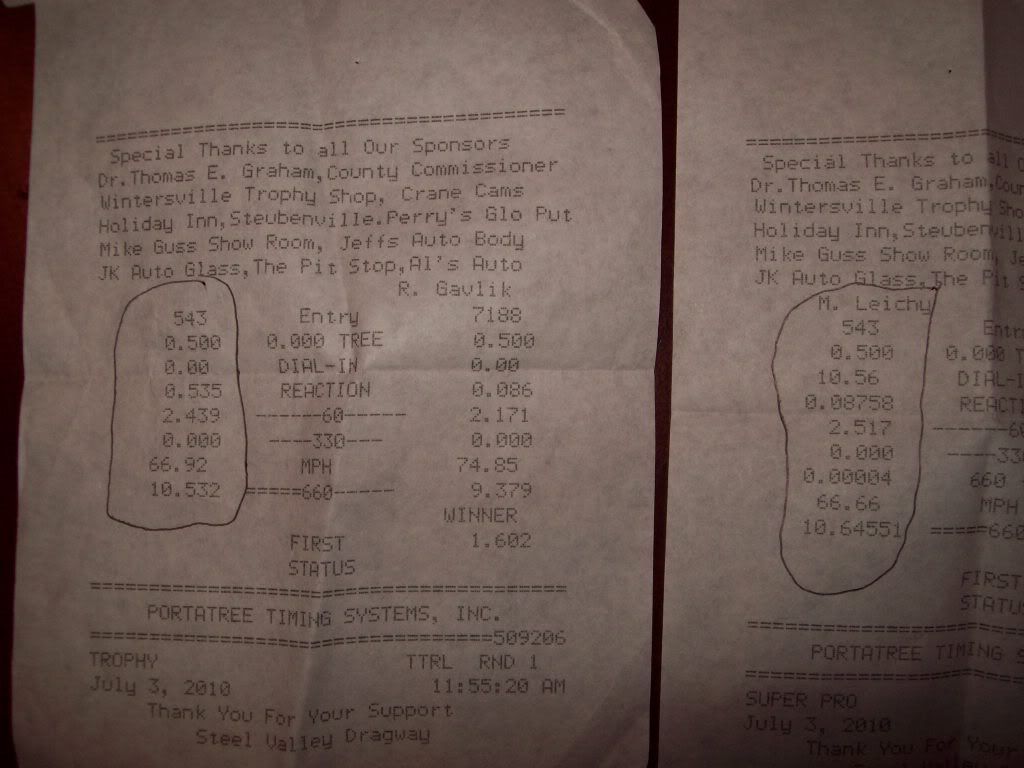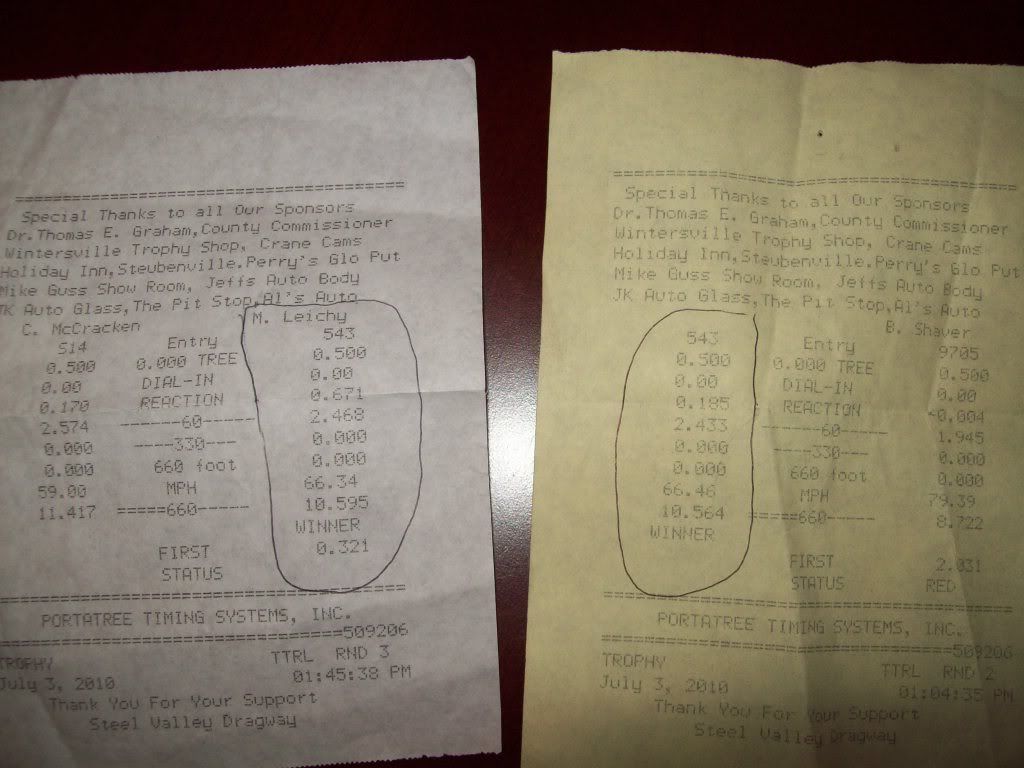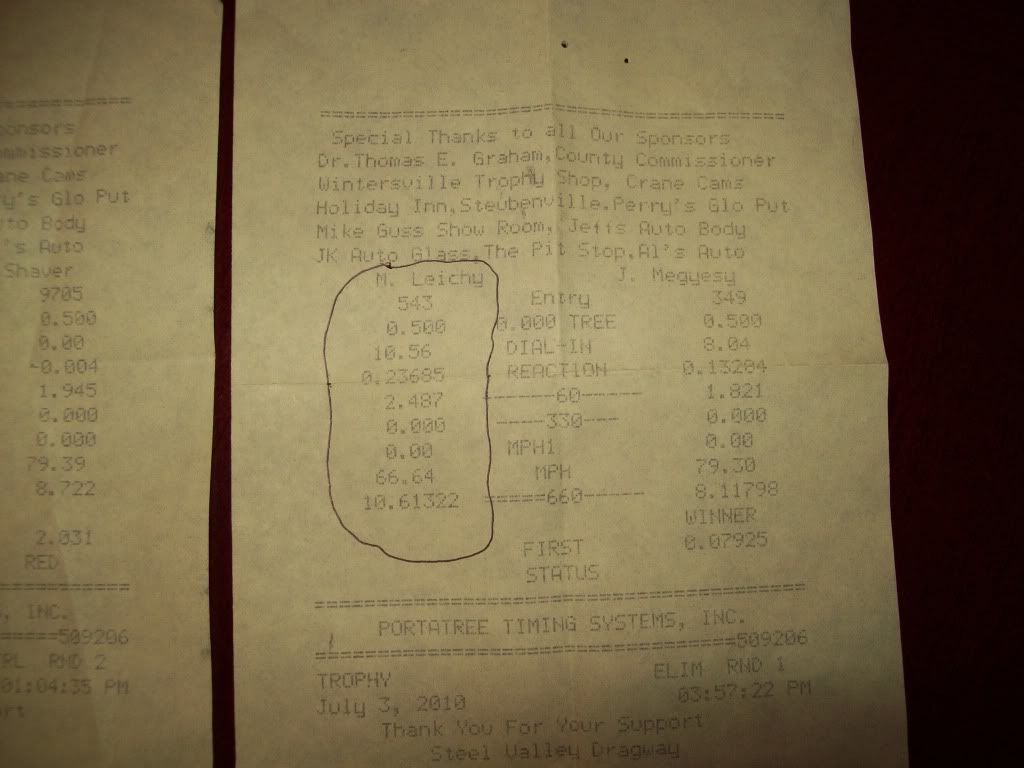 I think if it were a bit cooler I could have knocked a couple tenths off maybe but the only way to find out is to go back when its cooler, which I plan on doing.
07-03-2010, 10:41 PM
---
oh yeah, I had a blast Lisa. I was basically the only stock car there, besides an early 90s supercharged bonneville. The whole time I was lined up against all these trailered drag cars that were rattling my windows but the best part was at the end of the day when everyone was tweaking their cars and putting them back in the trailers, I hopped in mine and drove and hour and a half home lol. I bet I had more fun than those guys cause I didnt have to work on the car at all.

Chris, I wouldnt worry about breaking anything, especially in the 1/8 mile. By the end you are only doing about 65-70mph and its really no harder on the car then running it on the street. I didnt do any burnouts and only had minimal wheel spin so that saved alot of strain on the car. I will say, after all those passes, the car seemed to run real well on the way home. I think I cleared out 13 years of carbon from inside the engine, lol.

On a side note, I left my car number and dial in time on the windows on the way home. It was funny to see peoples faces when they see a 10.56 written on the windshield of a FWD monte carlo. No one needs to know it was only in the 1/8 mile, lol.
07-04-2010, 05:15 AM
---
Hi `Matt,
Sounds like you had a Super`Fun Time 4-Sure.
Thanks for your posts/slips : )
Are you gona leave your #'s on your car
Keep us updated `ok
Thanks for your reply ?
I'm learning 4-Sure : )
---
Last edited by BeachBumMike; 07-05-2010 at

07:44 AM

.
07-04-2010, 08:42 AM
---
Yeah I had them on. Those Pirellis worked real good on the track. I should have run my stockers cause they are way lighter but they have crappy goodyear RS-A tires on them.
07-04-2010, 01:38 PM
---
bet if you put your stock rims and with better tires your 60' would be little lower. i ran few passes with my bullitt and oh wow how embarrassing that was lol. i was spinning like crazy and i feel how slow my car took off.