took the gtp to the track
09-14-2010, 11:04 PM
took the gtp to the track
---
took the gtp to the track last sunday to see what it do in the 1/4 miles. i was having some fuel trim problem on the monte that's why i didn't run it. i thought the weather was kinda sux lite breezy and around 80*. i made 4 passes and didn't get my PB i was expecting. oh well there's always next month when the weather corporate little bit.
12.98 @ 106 mph 1.99 60'
12.89 @ 106 mph 1.90 60'
12.88 @ 106 mph 1.85 60'
12.73 @ 106 mph 1.77 60'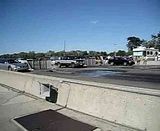 09-14-2010, 11:20 PM
---
12.5 or better. have same setup as the monte except gen 5 and little lighter than the monte in weight. also i was running 100 octane in the gtp. if the weather was little cooler i think i could easily hit my goal. look at my 60' it's way better than the monte.
09-15-2010, 06:10 AM
---
Hi `Ryan, I think the majority of our member's would be super happy
with those times, but it's always great to want
to be better.
Keep us updated, and thanks for sharing.
I think you can get your Monte in the 11's
Good Luck