=F1 U.S. Grand Prix 2014 Circuit(Nov 1 & 2, 2014 on NBC =
11-01-2014, 08:56 AM
=F1 U.S. Grand Prix 2014 Circuit(Nov 1 & 2, 2014 on NBC =
---
F1 U.S. Grand Prix 2014 from Circuit of the Americas in Austin, Texas, airs live on NBC Sunday, Nov. 2, at 3pm ET. Full TV schedule of U.S. GP events below. Qualifying Nov 1, 2014 on NBC @ 1 PM EST
NBC, NBCSN and NBC Sports Live Extra combine to present comprehensive coverage of the Formula One United States Grand Prix Grand Prix from Circuit of the Americas in Austin, Texas, from Oct. 31-Nov. 1. The U.S. Grand Prix figures to be an exciting showdown between Lewis Hamilton and Nico Rosberg, who've been battling each other closely throughout the season.
NBC's F1 broadcast team includes play-by-play announcer Leigh Diffey, analysts David Hobbs and Steve Matchett, F1 insider Will Buxton, and reporter Kelli Stavast.
F1 U.S. Grand Prix 2014 TV coverage on NBC and NBCSN
All times ET.
.Saturday, Nov. 1F1 United States Grand Prix – Practice 3 & QualifyingNBC1 p.m.
Sunday, Nov. 2F1 United States Grand Prix – Qualifying (Encore)NBCSN12:30 a.m.F1 CountdownNBCSN2 p.m.F1 CountdownNBC2:30 p.m.F1 United States Grand PrixNBC3 p.m.F1 ExtraNBC5 p.m.Photo: Credit: Hoch Zwei/ZUMA Press/Newscom
You may also like -
F1 Brazil 2013 TV schedule
F1 2013 TV schedule
2013 F1 Monaco Grand Prix date, time, TV channel and preview
F1 2014 TV schedule
F1 United States Grand Prix 2013 TV schedule
11-01-2014, 11:03 AM
= =Formula 1 - The Ultimate Racing Machine = =
---
Formula 1 - The Ultimate Racing Machine
* Below Vid is a great on what F-1 is `all about
They are amazing Motor Machines 4-Sure!
Some can even `fly
---
Last edited by Space; 11-01-2014 at

11:10 AM

.
11-02-2014, 06:36 AM
---
United States GP 2014 Preview: Start Time, TV Times, Weather, Schedule, Odds
By Neil James, , 2014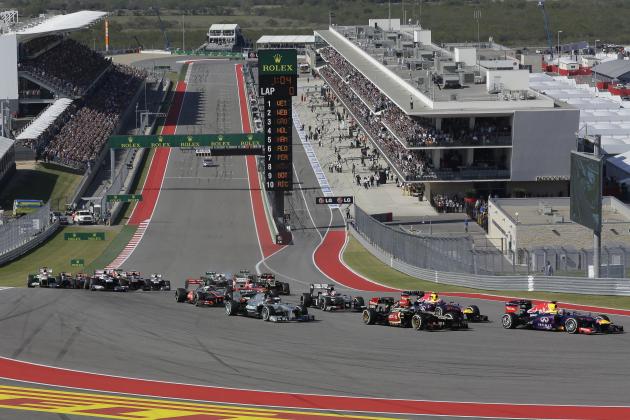 Eric Gay/Associated Press
Formula One is in turmoil, and a reduced field of just 18 cars will arrive at Austin, Texas for the 2014 United States Grand Prix.
Marussia joined Caterham this week in administration, meaning both teams will be absent. The spectre of third cars is looming on the horizon, but they won't be seen in 2014.
The nine teams that do attend will be greeted by the magnificent Circuit of The Americas, host of the U.S. Grand Prix since 2012. The 20-turn, 5.5-kilometre, purpose-built venue may be one of the new kids on the block, but it already has a strong following among drivers and fans alike.
Lewis Hamilton
takes a 17-point drivers' championship lead into the race, and is one of only two men to have won a grand prix at COTA. Mercedes team-mate Nico Rosberg will be hoping to add his name to the list on Sunday.
The title cannot be decided in the States this Sunday, but with only three races to go, every point counts.
Read on for a full preview of the weekend ahead, including TV times, a circuit map and guide, weather forecast, tyre and DRS information, current standings, odds and session times.
Thread
Thread Starter
Forum
Replies
Last Post
Other Professional Racing..
Other Professional Racing..
Other Professional Racing..