ZZP Heat Shield ...
02-19-2012, 08:22 PM
ZZP Heat Shield ...
---
02-20-2012, 07:38 AM
---
I made one out of some pretty cheap tin and coated the crap out of it in heat resistant paint. I also dry-wrapped the crossover pipe and put in a throttle body spacer. Pretty hard to say if it helps at all. But its something to talk about with others when we're gawking...
These were the best pics I could find on the computer - the car is away in storage. They are older shots (no billet DB's or stainless hoses yet)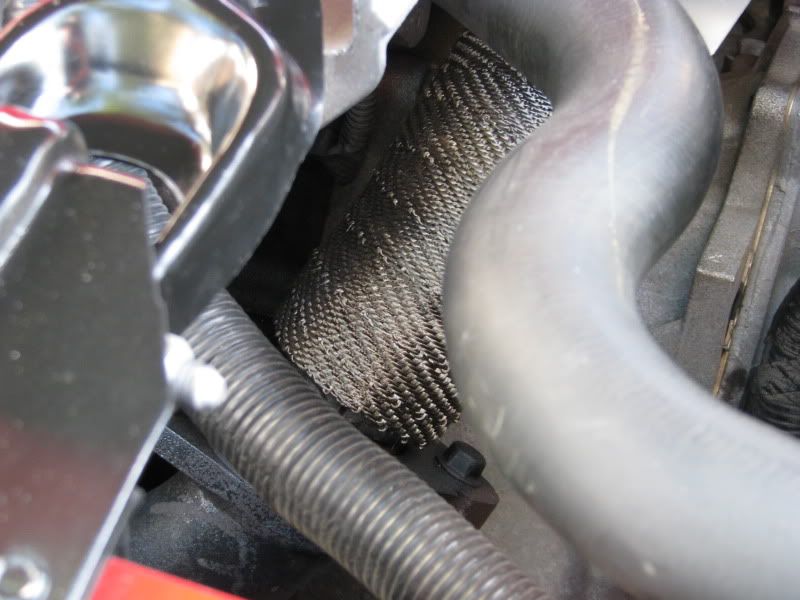 ---
Last edited by JuniorCar; 02-20-2012 at

07:49 AM

.
02-20-2012, 07:42 AM
---
02-20-2012, 02:39 PM
---
x2
Even though there may be a shield inbetween the t\b and the crossover, there's still a lot of heat in the engine bay. Imo, you would be better off blocking the coolant port in the t\b if you weren't going to do the whole ceramic coating thing.
Spend your money on parts that give you real gains.
02-20-2012, 03:10 PM
---
Wrapping the pipe works really well. I can tell cause that shield is cool to the touch and when it running warm. The wrap works well enough that even the pipe is cool enough to touch (although warm). Some say wrap the crossover will trap moisture and rot the pipe. I can't see moisture being a problem considering its placement under the hood. And who cares if it rots? Another pipe is readily available from a wreckers for next to nothing and takes minutes to change (unless you break a rear stud, which I did - d'oh!). I leave my shield on there cause its on there now, it doesn't look bad and I can't see it doing any harm. If you whipping one up at home for free, why not? Don't spend any money on one