Flomaster or Magnaflow? Help!
01-24-2012, 12:40 PM
Flomaster or Magnaflow? Help!
---
I got some money saved up and i really want to get more sound out of my monte carlo. just want more of a rumble and nice roar when i hit it. i dont want that ricey sound though. (they sound like a weed wacker). but if i could get away with just a good muffler and not have to delete a res, cat, ect id like too. i heard that Flomaster makes some great mufflers aswell as Magnaflow. I was wondering if anyones heard these on a 3800 s/c and if anyone would recommend anything better.
How much would it cost to have midas cut off the old mufflers and weld in the newer ones? (including mufflers)
what do YOU have on your monte carlo? do you like it?
thanks !
01-24-2012, 12:47 PM
---
I have Magnaflows on my LA1. I like the sound, especially at 3k RPMs and up. Even revving at idle from 3-4k it sounds MEAN! Granted, my muffler guy has been doing muffler work for years (he's the shop owner) and he did a few extra 'things' to alter the sound to give it the deeper growl. Then all my stock piping from the resonator back was switched to stainless along with the stainless mufflers and stainless tips.
Also, he mounted my tips a little lower then most and out a litter farther but it helps with sound since its not resonating off the bumper. Some don't like the looks but it's all for sound.
WOT!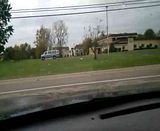 Then this video is mid throttle - it starts with idle though - sorry it was windy and I did it all in 1 take. If you just want to hear it go through the gears skip to about :50 seconds. The tips are not really out 6 inches like it looks in the video. They're about an inch out from the bumper.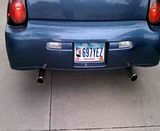 Granted your L67 won't sound the same as the LA1 does - but just for an idea.
---
Last edited by Mike 00LS; 01-24-2012 at

12:55 PM

. Reason: added videos
01-24-2012, 02:10 PM
---
Flowmasters will give you more of an old school muscle car sound and magnaflow basically does the same, just with a smoother tone. Flowmasters have more of a choppy idle and magnaflows are really smooth. I have flowmaster 40s and replaced the resonator with a magnaflow glasspack. I reaally like it but ive been thinking of cutting off the glasspack and just leaving the flowmasters. Here's how it sounds now!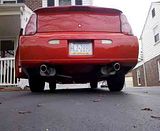 01-24-2012, 02:20 PM
---
That sounds pretty good. I find a lot of people make their 3800s sound annoying and raspy. Now mufflers don't really change idle sound ALL that much - if you really want the old school, choppy exhaust, upgrade your camshaft.
Flowmasters aren't bad - never heard them in person on a V6 - but regardless with what you go with, the 3800s don't have the deepest tone to them. The main thing is you want to try to find something with not a lot of low RPM drone. Flowmaster and Magnaflow have lots of different styles of mufflers - look at what they have in them to change the sound.
01-24-2012, 02:26 PM
---
I have SLP exhaust with Speed Daddy headers and love the sound. I original just did the exhaust and did the headers later. The sound is great, no raspy at all. With the headers it became a little bit of a lower/deeper tone more like a v8 would sound. A little rumble on idle, not extreme but enough that you can tell there's a quality exhaust system under there
(I've heard SLP discontinued their exhaust system for the Monte's though[grand prix system will fit but I believe the tips would have to be modified to be a little longer, not for sure though], however I believe summit racing has a few left if anybody is considering getting them, I suggest sooner rather than later)
01-24-2012, 06:13 PM
---
Mine has a really deep tone at 4k and above, never gets raspy. I'm actually very surprised that there isn't more drone inside considering how loud it is when you're actually on the throttle. I really need to get a sound clip sometime. I'll have to try and get one and post it tomorrow.