Dale Jr #2081 resurrection thread!
07-13-2014, 10:18 PM
Dale Jr #2091 resurrection thread!
---
So... GibDTD and I split for a Dale Jr car that was ready for a junk yard...
A few of you would remember this car in the For sale threads as a parts car a while back...
https://montecarloforum.com/forum/pr...n-parts-40421/
Well, I've become pretty good friends with the kid that owned it and he was finally looking to get rid of the car. Before he junked it we thrown a offer and picked it up for a pretty damn good price!
A nice pic of twins!
Well now we need to re-build the car.. Keep in mind it was flooded during hurricane sandy. The height of the water only reached up to the bottom stripe on the body. Transmission is good, but surprisingly overfilled. Drained a total of 2 & 1/4 gallons of fluid. Water has gone into the oil pan..
Measuring with a spare oil pan and old gasket the level reaches just at the oil level sensor.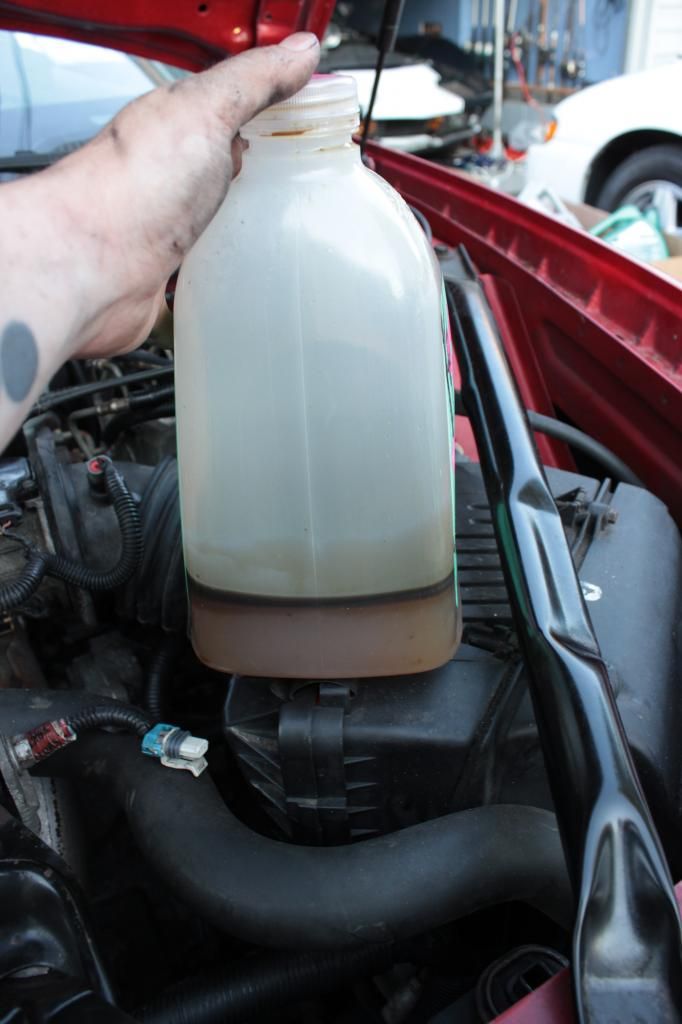 pictured above is the water left over from the oil.
Overall for a car that has not been started, and sat for two years its in AMAZING shape. Almost no rust underneath, it makes my #7 look like a rust bucket underneath!!
Interior had water sitting in it for a while.. we are currently working on soldering wires back together before we put any electric current in the vehicle.
---
Last edited by Red Nightmare; 08-13-2014 at

07:18 PM

. Reason: changing title
07-13-2014, 10:19 PM
---
We got quite a list of things to replace...

High Sport Kit, preferably black..
Reverse light housings
fog light assemblies
dashboard cover (with vents and everything)
Dale Jr glove box emblem
Dale Jr signature headrests
Dale Jr mats (or just a stock black rear mat)
Heated seat switch panel


and now the big stuff...
L67 Engine wiring harness
Fuel Injectors
Pass Airbag floor sensor
Possibly wiring harnesses for heated/power seats
May need a new stereo. (missing, had aftermarket radio setup)
---
Last edited by Red Nightmare; 07-13-2014 at

10:47 PM

.
07-13-2014, 10:33 PM
---
A few pictures to start.
Dave working on soldering, everything on the doors is good! Just waiting for new speakers.
She's got a few dings, but nothing that can't be fixed
Its gotten a little dirty.... Only the rear seats have signs of mold. They have been folded down since the flood and moisture kinda stuck in it.
Starting to rust up front, but very minimal.
07-13-2014, 10:58 PM
---
First update: wiring has all been soldered back together, heat shrink tube and taped.
Just a little more soldering to do in the trunk for the factory amp or speaker wires. I haven't looked yet to find figure out which it is.
07-14-2014, 07:45 AM
---
Yeah, good luck! The rust doesn't seem too bad really. It's always a great service to the Monte Carlo Community when you can save one from the wreckers, especially a Jr Special edition
07-14-2014, 09:35 PM
---
Is you crazy?? Now your going to have to play favorites between your Jr's. LOL, seriously though, your both pretty hard corp taking on this project. I can see it will be a labor of love and will surely have it's share of wrench throwing situations. But in the long run if you can keep your budget, it will be pretty BA, the only person in the US with 2 Jr Monte's to their name I would bet. Any odd parts your looking for let me know, have some things left over from my mod phase. My OEM cat back and exhaust with 60,000 miles on it, head lights tail lights etc. Best of luck Jen, and can't wait to Welcome another Nightmare to the forum when she is up and running.