Took car to the track
03-11-2012, 10:57 PM
Took car to the track
---
I took my 04 SS to the track today and my fastest time was a 15.485 at 89.10mph with a RT of .376. And my fastest RT time was a .373. I just want to know what you all think of that considering my only mods are a shift kit and flowmaster 40 mufflers with the stock "2.5" exhaust and a magnaflow glasspack to replace the resonator. Unfortunately I dont have my fastest pass on film but i do have to timeslip. I have 2 vids of other passes so hear you go! My dad raced my car against the old monte.
This is me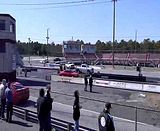 And here's my dad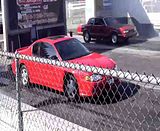 03-12-2012, 07:10 AM
---
At first I was going to say that time wasn't so great until I realized you're running an almost stock L36. That's a great time for the mods, nicely done! I think it's a great idea to run the Monte down the track in bone stock/near stock form in order to get a baseline and see how much you improve. That's what I did.
A couple things though. Rt times aren't that interesting. It's cool that you reacted as well as you did, but it doesn't effect your 1/4 mile time at all. I'm more interested in your 60' time. Anything under 2.3 is good for a stock L36. Next, please tell me that this is just the beginning and that you're going to do more to your Monte
That Momte moves really good.