6th Gen ('00-'05): Rough Day at Track
06-09-2013, 07:35 PM
Rough Day at Track
---
All you speculators... 2005 SS / SC - started with a 3.1 pulley; XP hot cam with recommended springs, roller & accessories, headers, cat less down pipe; 3 steps colder plugs, Stage 2 inter cooler, K&N air intake, 42.5 injectors; (My own tune
which I think is where the problem is at)
In the tune I adjusted the fuel flow rates as per ZZP flow rate recommendations; adjusted RPM limits, shift points, EGR delete, etc.
I had street tires on, and the best launches were at about 800 - 900 rpm and gradually stepping into it to about 25 mph & then hitting 100% throttle position. Anything over this was massive spinning...
First ET times were 14.3 and 14.4
I happened to pull up to a guy with an 04 SS: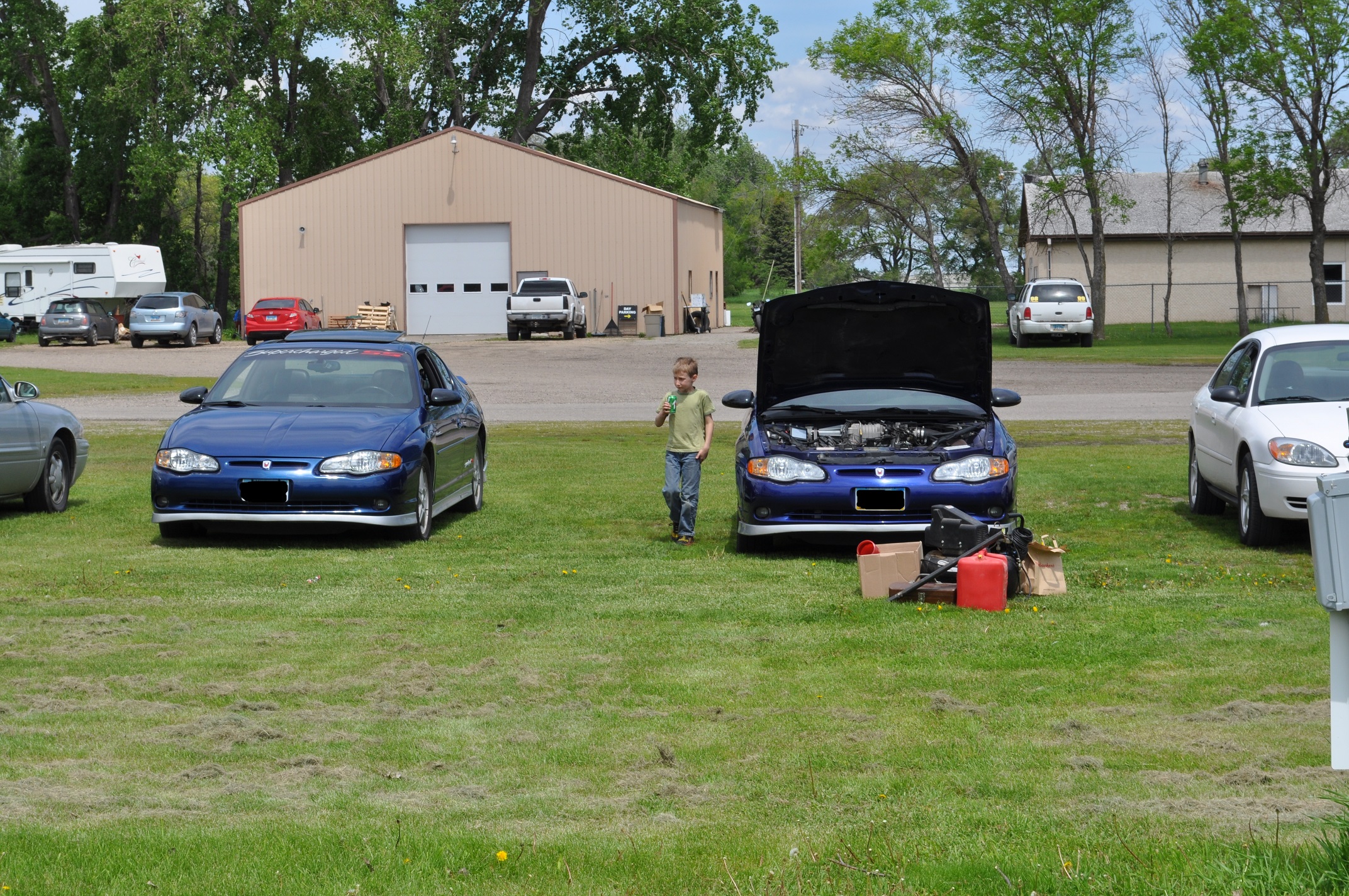 He said he ran a 15.0 bone stock (but normally runs his other 10 second car...)
After several 14.3 & 14.4 passes, I know an enclosed air intake / fender wall intake has it's advantages; cold air is definitely better; I adjusted shift points up to about 6500 RPM with XP cam for 1st to 2nd and 6,200 from 2nd to 3rd; The next run was a 14.09; I spun out on the next 2 runs, but trap speed seemed to be a steady 99.5 to 100 before the shift point adjustment and about 102 after the shift adjustment. I dropped to a 3.0 pulley, added a little more octane fuel to prevent KR and made 2 more passes; Both were a 13.9x at 102.5 mph and ALL of my runs had terrible 60' times of 2.3 or higher.
Knock Retard spiked at 0.4 on the last run for a brief moment according to the scan log.
WHAT NEXT????
1. I would assume some good drag radials will allow me to launch above 800 rpm & not feather into the throttle? (not sure how much this will cut off ET, but I know it will help) Anyone have thoughts on this??
2. Tuning - I need to get better at MAF and VE tuning & ensure my wide band O2 is working.
From the thread over here:
https://montecarloforum.com/forum/ra...-expect-39424/
Originally Posted by
03SS/00GSE/93LX
If you can hook it, you should see a high 13 out of it at 99-100. My Regal GS went 14.0 @ 99 MPH with the same pulley and less mods.

Air down the front tires a bit, roll into it off the line, let the car cool down before running and you should be low 14s at worst.
I did air down my front street tires to about 24 psi... there MUST be something I'm not doing right here. I was hoping to be in mid 13's with street tires and really low 13's with radials;
What do I need to do next ??? (short of firing up my 502 BB in my 66 LeMans)
Closeup of Me in slow car: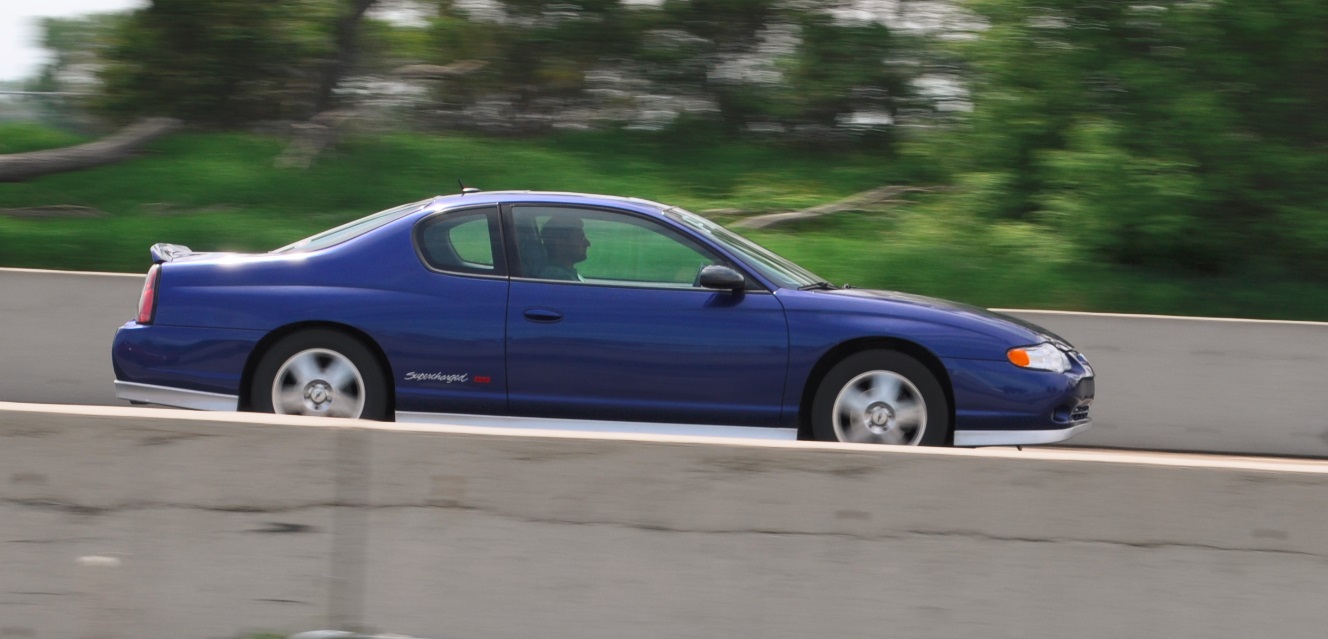 06-09-2013, 09:48 PM
---
MY 60's when I didn't spin on regular street tires were a consistent 2.3
I must have something messed up in my tune! ( I know I can add some drag radials, but I sure was hoping for mid to low 13's with my existing setup on street tires
06-10-2013, 10:45 AM
---
I thought lowering your tire pressure gives you a bigger footprint; more surface area & better traction
I had the front tires initially at about 30 and then dropped to about 24 psi, 60' times didn't seem to change; the rear ones were at about 45 psi.
In my scan log I was seeing MAP at about 160 which would be about 8.5 lbs boost. Found a nice converter tool here:
http://www.megamanual.com/v22manual/mturbo.htm
---
Last edited by Ace25; 06-10-2013 at

10:53 AM

.
06-10-2013, 05:13 PM
---
When you decrease pressure the tire becomes concave. Instead of the entire width of tread making contact only the outer edges do. Less contact = less traction. When I was running street tires on my cars the only time I reduced tire pressure was on days the temp was +80° and then it was only a couple pounds. The sidewalls of street tires are radically different compared to slicks and don't 'grow' like they do.
06-16-2013, 01:32 AM
---
you have to get the launch right, i got 1.9 60 footers on my 18's with all season tires on gm fe4 suspension, ran 13.5 on stock cam stock heads no i/c stock injectors and a full tank of gas so something is up for sure, my car runs pretty well for its mods i guess too and i do my own tuning too so there may be more left in each of our cars, more so with yours you should be low 13's high 12's with a decent launch

i can explain how i launch sort of: launch at a target rpm (varies with track conditions and tire pressure), then memorize the feeling when the car loses traction and maintain the g-force just before that for as long and even as possible when you launch and when you get to the floor keep it there until the end of the track... sort of a crappy explanation but it's the best i can do its all based on feel and knowing the car's limits
---
Last edited by 2003L67SS; 06-16-2013 at

01:34 AM

.
06-16-2013, 10:04 PM
---
Yes, I have launched quite a few times & am learning with "street tires...." (IE they need to go when I'm racing
)
I think I'm going to grab some 7" or 7.5" wide rims and mount up some sticky drag radials. Then I could probably launch at 1800+ RPM and get less than a 2 second 60' time. My tranny is probably the next thing to work on, go way lower gears for 1-3 & leave overdrive where it's at for highway cruising...
the ZZP people told me this:
For those mods, you need to start with our performance 4t653HD and add:
4340 input shaft
2500 stall converter
And either 3.29 or 2.93 single chain conversion.
Thread
Thread Starter
Forum
Replies
Last Post