View Poll Results: Will you watch the races this Sunday ?
I will watch the Indy 500
1
33.33%
I will watch NASCAR
0
0%
I will watch both
2
66.67%
I don't know ? I might ? I might not ? I might let you know ? Maybe ?
1
33.33%
Multiple Choice Poll. Voters: 3. You may not vote on this poll
=>2016 Indy 500 Lineup <=
05-27-2016, 03:34 PM
=>2016 Indy 500 Lineup <=
---
Indy 500 Lineup 2016: Starting Grid and Breakdown of Sunday's Thrilling Event
Hi Member's, Click below link for lineup + More.
Please post who

you

believe

will win

the

500 ?
Indy 500 Lineup 2016: Starting Grid and Breakdown of Sunday's Thrilling Event | Bleacher Report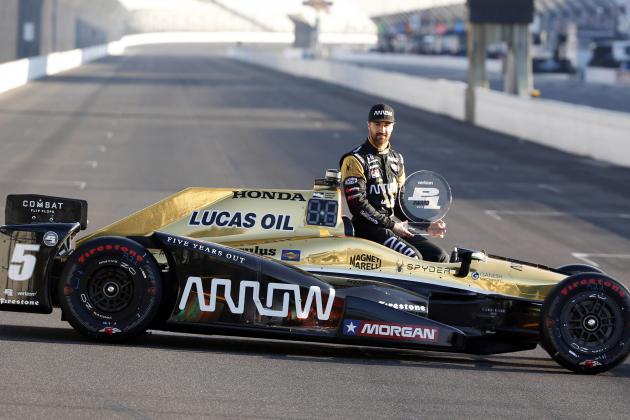 Brian Spurlock-USA TODAY Sports
05-28-2016, 07:23 AM
---
Scott Dixon staring lucky # 13th is my pick, driving for Chip Ganassi and carrying the Chevy banner!

Honda is looking strong, should be some good competition.

I will be watching both races, between going outside for spells if it is sunny. I love racing and this is my favorite day of racing all year. However, it is hard for me to sit in front of a TV all day when the weather is nice outside.
---
Last edited by GTHSS; 05-28-2016 at

08:28 AM

.
05-28-2016, 11:01 AM
>Life is a Race>4-Sure>"Go 4 the Win"
---
Hi Tommy & thanks for being the first member's to post their pick for the Indy 500.
Yes, I agree that it difficult for me also to sit in front of a TV for that amount of time...(especially if the race is on a oval track )
I prefer road courses
I usually end up listening on the radio & being out of the beach or just outside.
I hope both races have good weather & not rain delays.
Wish you & member's a Fun Time
05-28-2016, 05:27 PM
---
Indy 500 preview: Plenty of favorites, storylines surround 100th running
May 27, 2016
James Hinchcliffe (5) starts from the pole on Sunday after missing last year's race due to an injury. Photo by LAT PHOTOGRAPHIC
James Hinchcliffe to start from the pole in front of 350,000 fans
IndyCar Series drivers Josef Newgarden, who starts second in Sunday's Indianapolis 500, was recently asked about the hype surrounding the 100th running of the event at Indianapolis Motor Speedway.
Newgarden politely offered to allow another driver to win this 500.
"If," he said with stipulation, "you can guarantee me an Indy 500 win sometime in my career, I'll take that. Just give me one. It can be the 105th if that's what it takes."
Of course, Newgarden and the other 32 drivers in Sunday's field are stoked to win this event like few others, and the chance to win this one is on everyone's mind.
IMS officials have announced a complete sellout, a first in the history of the event. Eighteen temporary suites have been built, the infield crowd could swell to 100,000, and the historic venue figures to have a record-setting spotlight on it.
With a full house approaching 350,000, IMS has even gone to the extent of allowing ABC's live television broadcast to air live throughout Central Indiana, something that hasn't happened since 1950.
The storylines abound, too. A year ago, driver James Hinchcliffe was battling life-threatening blood loss from a crash in Turn 3 during post-qualifying practice -- a broken suspension piece was driven through his upper left thigh.
Indy 500
Indy 500 official drivers' photo, starting lineup, TV schedule
TV and radio information and the starting lineup for the 100th running of the Indianapolis 500, set for Sunday at the Indianapolis Motor Speedway:ABC TV broadcast: Sunday, May 29, noon ETAllen ...
Now, the Canadian is the pole-sitter for this significant race, something he hopes will keep him from answering questions about his injury -- at least for a while.
"I get it, (the crash) was a big deal; it was a big deal to me, too, and I understand that and really appreciate that people wanted to hear the story, wanted to tell the story for me," he said. "But then you're coming back to this place and you want to focus on the here and now and not remember or focus on hitting the wall at 125 gs.
"So there was definitely a point where it's like, 'Hey, is there anything else you want to talk about? Let's lead with that and kind of see where we go from there.'"
Had Hinchcliffe not delivered a stirring run on pole day last weekend, the field's front row would have been red, white and blue for the first time since 2001. Newgarden hails from Hendersonville, Tennessee, a Nashville suburb. Starting on the outside of the row is 2014 race winner Ryan Hunter-Reay of Fort Lauderdale, Florida. In fourth is Townsend Bell of San Luis Obispo, California.
Normally, the 500's attention starts on Team Penske, which has won a record 16 500s, including last year's race with Juan Pablo holding off teammate Will Power by a final margin of 0.1046 seconds. This year, none of Roger Penske's drivers start higher than sixth, but they're still among the favorites to win.
Helio Castroneves could join Rick Mears as a Team Penske driver with four wins in the 500, and he starts ninth. Alongside the Brazilian is Penske's fourth driver, Simon Pagenaud, who has won the past three IndyCar Series races for a commanding 83-point series lead heading into this double-points race.
Indy 500
Indianapolis Motor Speedway lifts local TV blackout for first time since 1950
With the first Indianapolis 500 sellout in history now in hand, Indianapolis Motor Speedway officials have lifted the live local television blackout that's been in place since 1950. Central ...
Chip Ganassi Racing also is a race favorite, with five Indy wins to its credit. But its drivers have struggled even more than Penske's, and the common denominator is Chevrolet, which at a minimum has lost much of its advantage over rival Honda on this track. A Honda won the pole here for the first time since 2011 when it powered all the cars.
Ganassi's foursome -- Scott Dixon, Tony Kanaan, Charlie Kimball and rookie Max Chilton -- have mostly been second-tier in practice, although they occupied the second, third and sixth positions in Monday's final full-scale session.
Alexander Rossi is the highest-starting rookie in the 11th spot, and he's had a good month with Andretti Autosport, which has Hunter-Reay starting third, Bell fourth, Carlos Munoz fifth and Marco Andretti 14th.
Andretti is one of several sons of former drivers in this race. His grandfather, Mario, won in 1969, but that isn't the only significant historical connection. Graham Rahal's father, Bobby, won the 500 in 1986 -- 30 years ago. Rookie Matthew Brabham is following his father (Geoff) and grandfather (Sir Jack) into this race. Brabham will start 27th, one position behind Rahal.
Rookie Stefan Wilson has the 30th spot, but he had hoped to make his 500 debut with his brother, Justin, who died last August after being struck by debris in IndyCar's race at Pocono (Pennsylvania) Raceway. Spencer Pigot is the other rookie in this field, Rahal's teammate starting in the 29th position.
Pippa Mann is the lone woman in this race, and she will start 25th. One of her three Dale Coyne Racing teammates is Conor Daly, whose father (Derek) and stepfather (Doug Boles) have significant IMS connections. Derek is a former driver; Boles is the track president.
Mikhail Aleshin (starting seventh) adds a Russian flair to this race and is one of Hinchcliffe's teammates. From all parts of the world are drivers with desires to win the 500 -- this year, next year or even the 105th.
By Autoweek Staff
05-29-2016, 06:00 AM
---
The Honda's have caught up to Chevy and now have the advantage at Indy. This will make for an epic team battle! Will the winner be in the fastest race car, the most durable race car, or a car from a very cunning and consistent team?

I am pulling for Chevy but good competition makes both brands better! When is Ford coming back to IRL?
05-29-2016, 06:59 AM
---
I don't watch Indy car racing much, but I usually catch the Indy 500. I was thrilled to find Hinchcliffe got the pole. I didn't even know he was racing after he nearly got killed driving one of these things last year. So it impresses me that he bounced right back and I'd like to see him win it.
05-29-2016, 07:58 AM
---
Originally Posted by
JuniorCar
I don't watch Indy car racing much, but I usually catch the Indy 500. I was thrilled to find Hinchcliffe got the pole. I didn't even know he was racing after he nearly got killed driving one of these things last year. So it impresses me that he bounced right back and I'd like to see him win it.
That is a good success story about Hinchcliffe. I am always impressed by these drivers lack of fear for speed. too many NASCAR drivers are scared of the speed they have now.
The INDY 500 pole was set at over 230mph!! If that is average lap speed, what is the fastest speed they reach during a lap?