View Poll Results: September 2011 MOTM
AwesomeSS (Amy)
15
32.61%
The_Maniac (Jason)
13
28.26%
03limitedss (Frank)
18
39.13%
Voters: 46. You may not vote on this poll
September 2011 MOTM Voting
08-27-2011, 10:16 AM
September 2011 MOTM Voting
---
Welcome
To The
September 2011
Monte Of The Month
Contest!
_________________________________
We already know who's on the cover of the 2012 calendar.
And the first eight cars to appear inside the calendar.
Who will be the next member to get their Monte
Carlo into the 2012 MCF Calendar?
You get to decide! Make sure you vote!
Many winners have won by 1 vote.
And we've even had some ties.
So every vote counts!
Each nominee has done so much to personalize
their Monte, and make it truely theirs.
I can't possibly pick just one picture of
each nominee's awesome Monte Carlo.
So I've put a link to each member's photogallery underneath their signature.
I urge you to take a look at all their pictures before voting.
We have three very deserving choices. It's going to be tough to decide!
Please check out all the great pics of each member.
______________________________
AwesomeSS
(Amy)
2003 Monte Carlo SS
"Precious"

2005 Monte Carlo SS: Wizaired CAI, SLP Exhaust, ZZP 2.5 Downpipe w/high flow Cat
, ZZP 1.0 PCM
2003 Monte Carlo SS: Dynomax Exhaust, U Bend delete, K&N CAI, Custom Graphics

CLICK HERE TO VIEW HER PHOTOGALLERY
Note: Please only judge on pictures of her red 2003, not
on her silver 2005.
_________________________________
The_Maniac
(Jason)
2004 Monte Carlo SS
For more info about me and my cars, check out my websites below:
-
1984 Camaro Z28 5.0 Liter HO
Restore Project/Big Toy
-
2004 Monte Carlo SS 3800 N/A
See website for MOD List
-
1994 Grand Am SE 3100 v6
Current daily with over 200,000 miles
CLICK HERE TO VIEW HIS PHOTOGALLERY
_________________________________
03limitedss
(Frank)
2003 Monte Carlo SS
-FRANK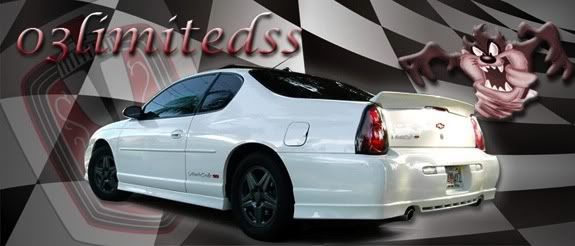 CLICK HERE TO VIEW HIS PHOTOGALLERY
________________________
GOOD LUCK TO ALL!
08-27-2011, 11:00 AM
---
Hi Pacer S.S. (no name in your profile),
Maybe you should type in your Mod List so member's don't have to `ask & be impressed with what you've done 2 your Monte...I'm sorry that you feel shafted
I had to look that up to see what it meant
I don't think it was anything personal, it was just the results of the Top Three that were nominated & supported by member's...Wish you better luck next month, but I think you already are a winner for owning a Monte Carlo
================================================== ===================
p.s. Thanks `Lou (

Taz

) for your time & creating the September 2011 MOTM Contest
Good Luck to every Member in the MOTM Contest
---
Last edited by Space; 08-27-2011 at

11:07 AM

.