Few pics from 6/3
06-04-2014, 08:24 AM
Few pics from 6/3
---
Here's some pics of yesterday! Keane came up to chill and we went and hung out with Dylan! was a neat day! But a Very long one for me!
It started Sunday for me, Amanda and I went to wash the cars quick as it was a nice day and they were dirty! And on the way to the wash my car was acting up.
On the way home, the car got worse and worse and it was scary to drive. So i got it home and parked it. I had an appointment at the dealership Tuesday. She looked nice and clean parked though haha!
Tuesday morning, Keane was going to come chill, But that morning i had to send the car off to the dealer on the flatbed, sad sight.
Keane came up around noon, and we cruised to dorchester park. I drove Amanda's Impala SS. Unfortunately it started raining, So we went to Arby's instead to wait for the rain to pass, and it did. Dylan met up with us there. After the rain stopped we went back to the park.
I only got a few pics taken before the dealer called and said my car was done! So Keane, Amanda, And I piled in the Impala SS and drove to get it while Dylan had to go to work.
We picked up the car and it runs beautifully now! So we cruised up to pick up Keane's car then went to the ice cream shop Dylan works at!
Was happy to get the car back!
Dylan:
Amanda:
Keane:
Me: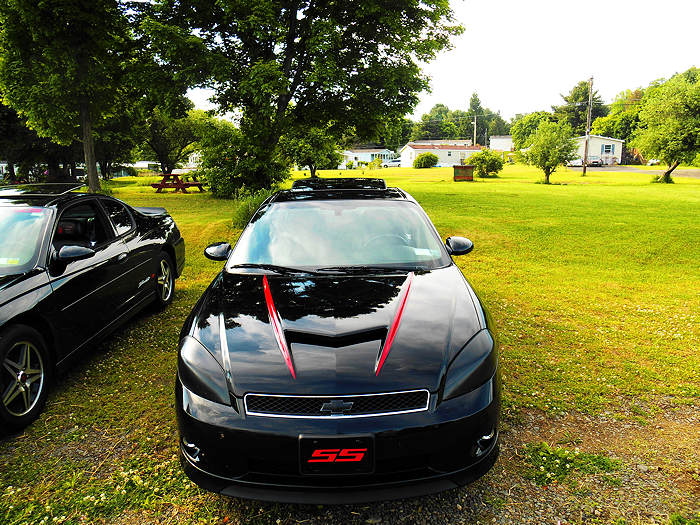 That's it! We went to a Cruise in after but i think the rain cancelled it cause it wasn't there.
06-05-2014, 06:00 AM
---
It must be great to be young and have the freedom to chill / bond with other forum members in your area!

There are no forum member around me! Taz is the closest, but he still a few hours away so we have never met. The only member I have ever actually had the privilege of meeting was Cowboy Duane and I didn't even have my Monte Carlo with me - for shame! And I had to go all the way to Bristol TN for that.

I need to get out more like you guys! Thanks for sharing the pics!
Thread
Thread Starter
Forum
Replies
Last Post