Mod Guide: How to: Motor mount rotation.
08-12-2007, 02:14 PM
Join Date: Jun 2007
Location: CFB Petawawa, Ontario, Canada
Posts: 736
How to: Motor mount rotation.
---
This is a how to that I stumbled across and did on my own. All pics below are of the 3.5L v6. V8 owners the procedure is the same, but only have one mount, as opposed to two.
The motor mount inserts on our monte's all are made of a very soft rubber. And the way the mounts are designed allow for a lot of front and rearward motion of the car. Dont expect a lot of HP gains from this mod, but it can be a free way to add a bit more rigidity to the drivetrain, while sacrificing little bit of comfort.
Tools needed:
Average sized flat-head (slot) screw driver.
2 13mm sockets, one deep, and one shallow.
Dish soap (or WD-40, I found dish soap worked better).
Open end wrenches, or quickwrench, (As shown)
Step 1: Off with thier.. Dogbone?
First things first. You have to get the dogbone out of the car to attack the rubber bushing underneath. simply remove the bolts as shown in the pic below. Remove the top bolt (the one with the ratchet on it) first, then the one attached to the bushing second. Note the bolts are two different sizes!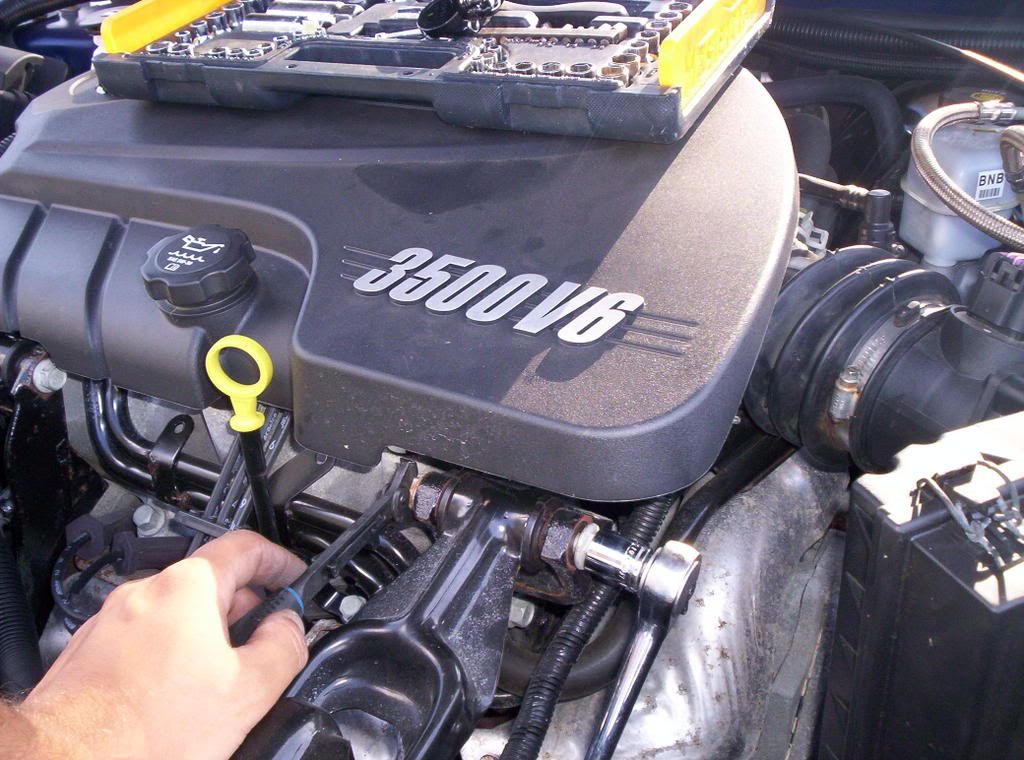 Step two:
Loosen off the mount from the rad support.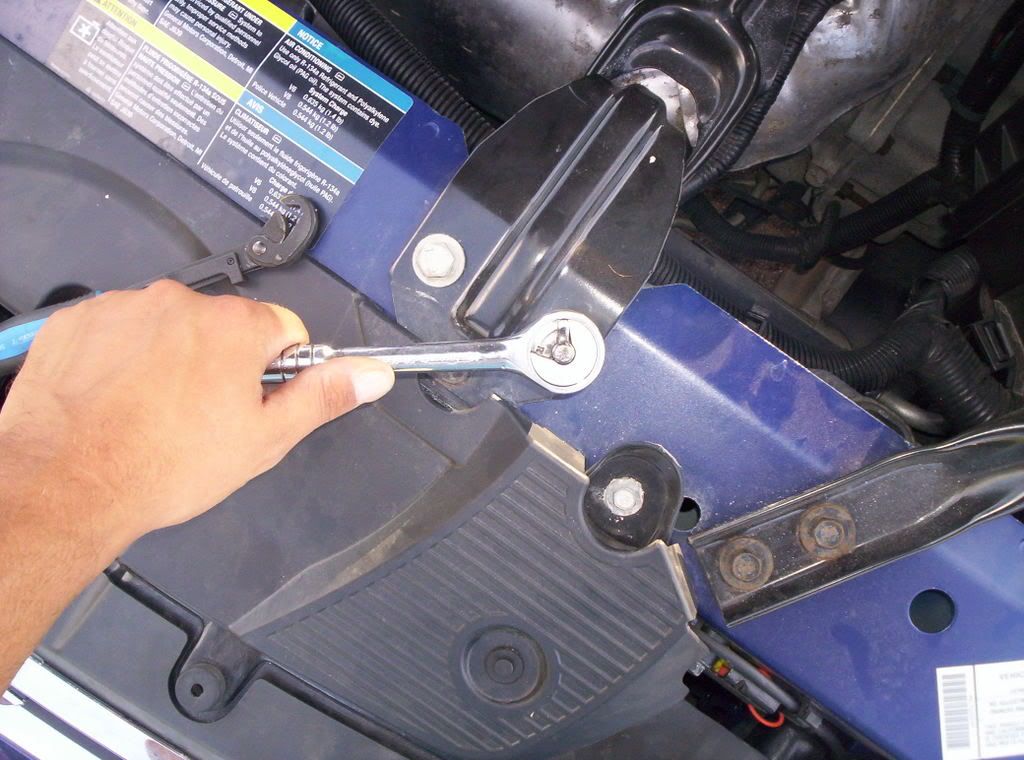 Step 3:
Remove the dogbone by pulling the narrow end up and sliding the dogbone out.
This is the part we will be attacking next. You can see how it works and how weak it is.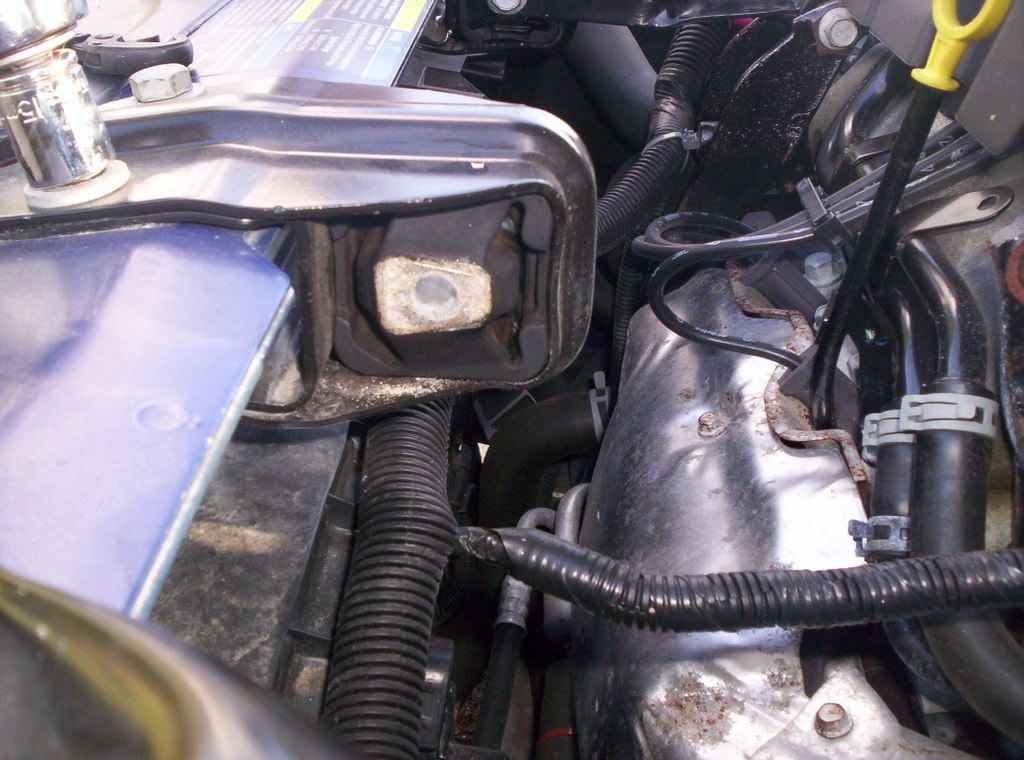 One you are stuck at this stage, using the flat head screwdriver, lift up all of the edges of the bushing and pour soap into it. I mean saturate it.
Step 4: Sit on it, and rotate,
Now, re install the bolt into the bushing and torque it down. Really torque the living heck out of that bolt. Too loose and it wont turn the bushing. Now rotate the bushing towards the engine. It will take some colorful language but it works.
Step 5: Put er back together.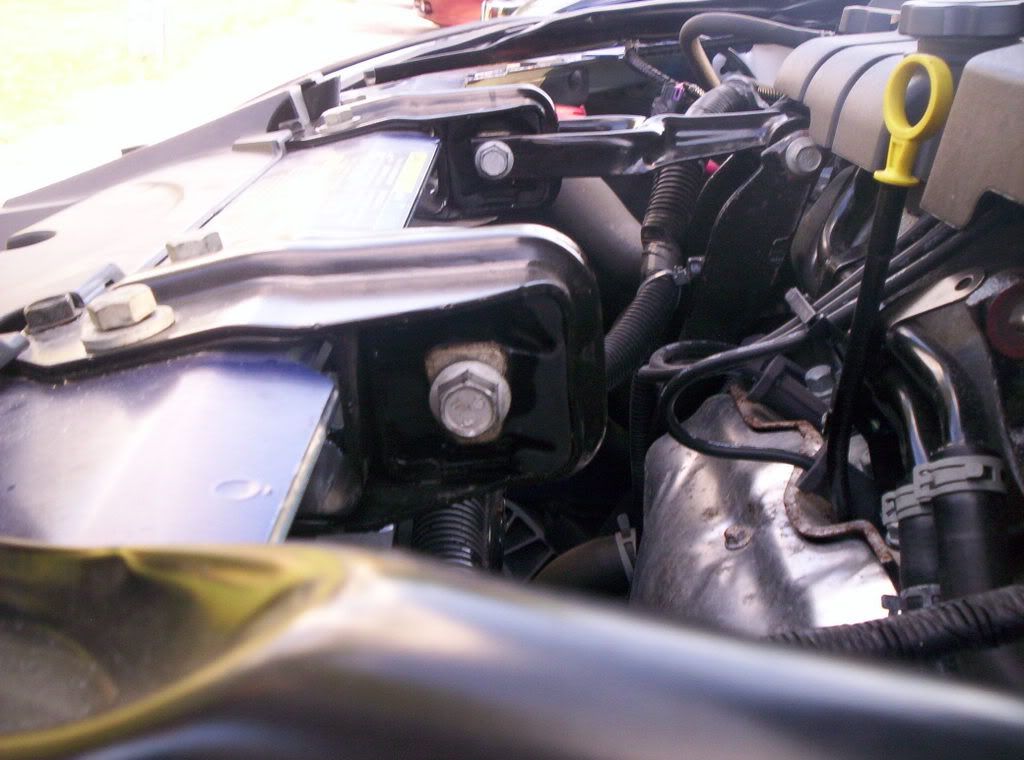 Now this pic came out a little dark, but if you turn up your brightness youll be able to see what has happened here. The mount rotated and now the thicker part of the rubber mount will now be what the engine has to flex against. Reassembly is the reverse of the instuctions!
08-12-2007, 02:17 PM
Join Date: Jun 2007
Location: CFB Petawawa, Ontario, Canada
Posts: 736
RE: How to: Motor mount rotation.
---
The after mod impression:

No realy gain in horsepower. I felt a little less torque steer and the v6 vibration at idle seems to be all but gone.

Original credit for the discovery of this mod is to BuffaloSS of Newimpala.com. He performed this mod on his Impala SS, and I just elected to give it a shot on the Monte Carlo.
08-12-2007, 02:56 PM
RE: How to: Motor mount rotation.
---
Great write up with `pic's. I've read where the V8 SS owners
have done this, but you are the first with a 3.5L to perform
the rotation that I know.
Ian,

have you driven on any bad roads yet ? If so, what did
you feel ? You sure have been doing some great search's
Now, you have to clean your engine bay : )
I was surprised to see the surface rust on the strut brace bar : (
in your one pic. I know "Canadian Weather" : (
Thanks for posting `Ian

, and sharing with the member's.
Keep us updated on all that you do with your Monte Carlo LT.
08-12-2007, 03:04 PM
Join Date: Jun 2007
Location: CFB Petawawa, Ontario, Canada
Posts: 736
RE: How to: Motor mount rotation.
---
All In due time space.. All in due time... Ive been looking into the upper strut tower brace.. I think If I buy that, Ill sandblast those support bars and repaint them to the body color.

Driving impressions. A bit less lag when you kick it down to pass someone, ride feels a little more rough, no difference in cornering. A bit more gruff when you take off from the stoplight. And that wierd v6 shake at idle is pretty much all gone..

Mayybee Ill give it a scrub down tonight...
10-02-2007, 08:48 AM
RE: How to: Motor mount rotation.
---
Fox, I also want to add that you noted for a 13mm wrench, when the picture shows you using a 15mm wrench. This is what I used actually.

You'll need a deep socketforthe nut, or a open-ended wrench. I found a ratcheting box end would really have helped, but at 100$ for 10 of em... I'll wait on that, lol. Also, if you put two nuts on the bolt it will give you a bit more clearance to really torque that mount, without cracking your knuckles against the engine block.

I used WD 40, and found that this worked fine. On hind-sight, however, I feel that dish soap would have been a better choice, as it would have dried quicker. My mounts didn't cause any problem at all, and my car is much more willing to get up and go!
Be fore-warned. Those that have to deal with snow and ice will not appreciate this mod in the winter, because if it's easier to break the tires free in Summer/Fall.... you know in winter it's gonna be fun driving. Not that it will be uncontrollable, but if you're used to driving with the engine rockin around like mad, you might notice a reduction of traction on wet/snowy/icy roads upon acceleration.


10-02-2007, 09:15 AM
Join Date: Jun 2007
Location: CFB Petawawa, Ontario, Canada
Posts: 736
RE: How to: Motor mount rotation.
---
Roger that, I just put in for open ended wrenches. The wierd black one is called a motomaster quickwrench. Doesnt work worth beans, but ya make do with what cha got, right?
10-02-2007, 11:30 AM
RE: How to: Motor mount rotation.
---
And it's rotate both rubber mounts right
Say in this photo if you look close you'll notice the rubber has somewhat of a "C" look to the center of it. Which direction do you rotate the rubber so this "C" is position after it rotates? With it pointing upwards or down?