Repair Guide: How to adjust headlight beam
10-03-2009, 07:11 PM
How to adjust headlight beam
---
Hey everyone, so I was cleaning out my headlight that was leaking and I decided to see what this little screw thing did. So I looked at my headlight, and turned it one way, and my headlight raised. I was like "Ah Ha!, I found how to adjust the headlight beam!" So, after I was done, I grabbed a camera and took some pics for my fellow MC owners
. Sorry if the writing on the pictures is sloppy. I couldn't write in a text box in paint for some reason =[.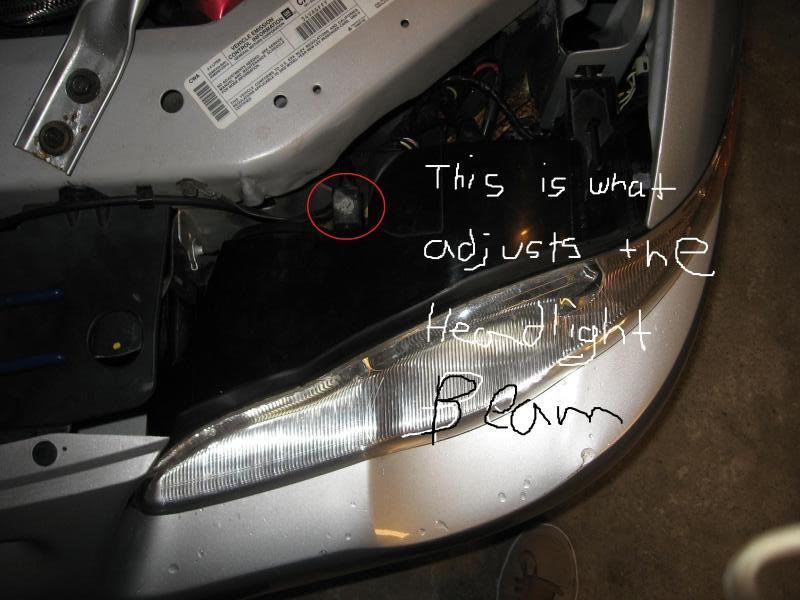 If anyone has any questions, or if I didn't make anything clear, or if it's confusing please let me know, I'll do my best to help you out.
10-04-2009, 09:07 PM
---
with HID you want to point down to the road. i use the garage door or building and do the aiming adjustment. i wouldn't want to point up cause driver will flash at you. it's already bad enough the HID in our headlights shine all over instead of a straight beam.
10-04-2009, 09:11 PM
---
Yes it did. I could only see maybe 100ft-125ft in front of me. That's just lighting up the ground. No one has flashed their lights at me yet even going up hills. I also looked at my headlights even height with them by kneeling down, and they werent brighter.
04-18-2011, 10:45 PM
---
Just an fyi. In the cheap ebay head lights, black housings. Good luck alligning them. Honestly they arent just staggered, they are bad. Highs will be aimed, flash to lows and it is pointing at the ground 10 ft in front of the car.
09-01-2012, 04:09 PM
---
After this discovery, I have been driving around with uneven headlights (after both fenders replaced from an accident). Now its even and no one has flashed me since (which I though they flashed just to warn me the police up ahead....LMAO). GOOD FIND!!!!!