How to make your car shine like a show car
05-11-2016, 05:37 AM
How to make your car shine like a show car
---
HOW TO MAKE YOUR CAR SHINE LIKE A SHOW CAR
By Meguiar's
May 11, 2016
Meguiar's, the world leader in car care technology wants to get you prepped for car show season with some tips and tricks for getting your car to shine bright like a diamond. The golden rule is to work smarter, not harder, ensuring your show car finish exceeds expectations.
The first step in any car care project is always washing. Car washing removes the loose contaminants sitting on top of the finish. Dishwashing detergents are not recommended for this as they are formulated to strip everything, including wax protection, off the surface leaving it unprotected from the elements. By comparison, Meguiar's car wash products are rich with conditioners and nutrients that actually add gloss and vitality to a cars finish while being washed.
Surface prep is the second step in preparing any vehicle for polishing and waxing. Washing only removes loose contaminants sitting on top of the finish. Surface prep removes stubborn/bonded above surface contaminants and sub-surface defects that washing cannot remove. It is absolutely critical to use a product like Meguiar's Smooth Surface Clay Kit to create a smooth as glass finish or clear coat safe compound like Meguiar's Ultimate Compound to remove below surface defects such as swirls, oxidation, and light scratches.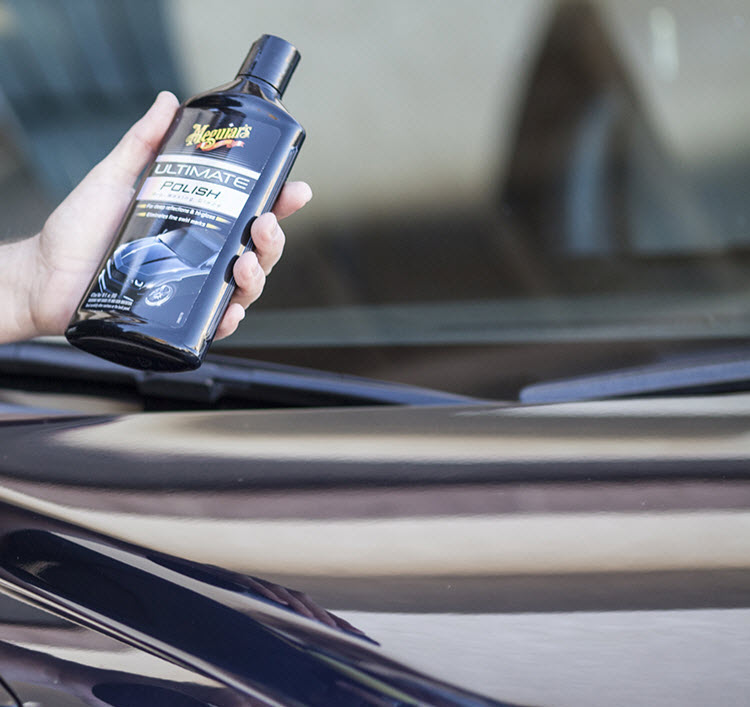 The classic definition of a polish, which is the third step, is a product used to create added brilliance and is treated as an optional step. In other words, pure polishes are specifically formulated to create high gloss and a great option for black and other dark colors. Meguiar's Ultimate Polish also has the ability to polish out superficial imperfections like super fine scratches so a perfect reflection with great depth is created.
The next step is protection, involving the application of tenacious raw materials like waxes, polymers, silicones and resins which provide durable, long lasting protection against the elements. If long lasting durability and protection is desired after the application of either a pure polish or the aforementioned Meguiar's Ultimate Polish, then an easy-to-use product like Meguiar's Ultimate Liquid Wax would be best to use.
Finally, continued maintenance of any vehicle is necessary in keeping that lasting show car shine. Contaminants are constantly landing on our car finishes, attempting to bond to them. If you ignore them, you will have a serious build-up of bonded contaminants and a lot of work ahead of you. That's where products like Meguiar's Ultimate Quik Detailer come into play – the missing link between washing and waxing.
Follow these guidelines from Meguiar's regularly and your car will look like a show car every day, and contaminants will never have time to undo your work.
www.meguiars.com
05-11-2016, 08:17 AM
---
Hi Mod Barbara & thanks for being the first to post on this thread + your endorsement of Meguiar's Products.
I've had good luck with

Meguiar's Products & for the price I found their products do a great job. They would make a great addition sponsor on the MCF.
Member's, post what you are using ?
05-11-2016, 11:18 AM
---
I use Meguiar's Ultimate Wash And Wax Anywhere waterless wash on my Monte. At least I did, until the repaint. Now I look forward to using Meguiar's Ultimate Wash And Wax Anywhere again soon...........
Usually Meguiar's clay bar.
For bucket washing, I use a Turtle Wax car soap.
Also use either Meguiar's or Mother's quick detail spray as well...
05-11-2016, 12:10 PM
---
05-11-2016, 12:40 PM
This has been a high-jacked thread (LOL)
---
Yes Mod Barbara, I admit it, but you didn't have to lock me in
---
Last edited by BeachBumMike; 05-12-2016 at

09:37 AM

.
05-12-2016, 06:03 AM
---
I used to be a huge Meguiars guy but i switched to Adams products recently after trying Amandas Adams quick detail. Loved the outcome so now I'm hooked!
---
Last edited by MnteCrloSS47; 05-12-2016 at

06:06 AM

.
05-12-2016, 09:40 AM
Thank `Devin, Everyone for posting/sharing
---
Thanks `Devin for posting the product(s) that you are using + your super picture results
On Sale (?) Now
Adam's Essential Kit | Adams' Polishes Kit | Car Wash Kit