`ChevySSGirl ~>Racing : )
02-25-2009, 02:15 PM
`ChevySSGirl ~>Racing : )
---
Hi Member: Chevy

SS

Girl,
`Jamie Lynn
Thanks for your awesome post infomation of

Racing

, plus
your discount 2 MCF Members.
You are fortunate to have a` position/job that sure sounds
like `fun. Plus you get to drive a Limited Production
Tony Stewart

SuperCharged Monte Carlo SS It
is one of my many dreams is to attend a Racing School.
Thanks lots, 4 sharing, and being a active contributing
member to the Monte Carlo Family.
Space & the BeachBums
For those of you who dont have the money to start in racing, or just want to see what its like once, check us out at [/quote]
www.theracingschool.com
.

We give you the opportunity to drive or ride-along in a real NASCAR for anywhere from 8 laps to 240 laps over the course of a weekend. We buy our racecars from real Cup, Busch (Nationwide) and Camping World series teams after they`ve retired or wrecked, drop a motor and a seat in it and put it on the track.
we travel all across the country to around 15-20 different racetracks a year, most of which are on the NASCAR circuit. Tracks like:
*Auto Club Speedway, Fontana CA
*Phoenix Intl Raceway, Avondale AZ
*Pikes Peak Intl Raceway, Fountain CO (yes its back open!!)
*Michigan Intl Speedway, Brooklyn MI
*Chicagoland Speedway, Joliet IL
*The Milwaukee Mile, West Allis WI
*Bristol Motor Speedway, Bristol TN
*Richmond Intl Raceway, Richmond VA
*New Hampshire Motor Speedway, Loudon NH
*Kentucky Speedway, Sparta KY
*Homestead-Miami Speedway, Homestead FL
If anyone is interested or has any questions please feel free to see our website
www.theracingschool.com
or email/PM me! It is a lot of fun and youll come away with a whole new respect for what those guys do every Sunday!
We usually have sales going on and if anyone is interested in signing up I can offer you 20% off the driving package
of your choice just for saying that you saw it here! (No I dont get commission [X(]or anything, its just my job and

I love it and I want to share it with everyone!!)
_____________________________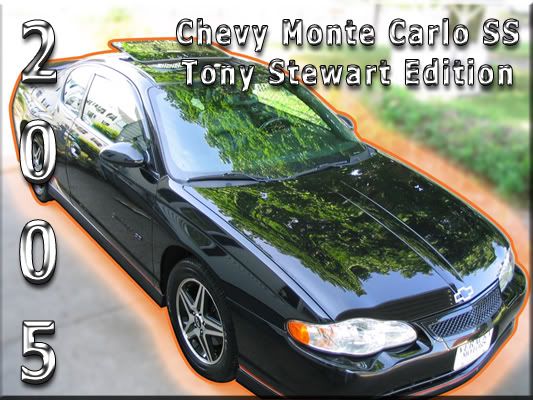 *****************************************
~jl
2005 Monte Carlo SS Tony Stewart Signature Series #460 [/align][align=center]
---
Last edited by Space; 03-10-2009 at

11:44 AM

. Reason: MCF on `Drugs : )
02-25-2009, 09:18 PM
RE: `ChevySSGirl ~>Racing : )
---
space, aren't you just fantastic! Thanks for that, I appreciate it! my job is definitely a lot of fun, but also very very tiring. this is the beginning of our season, and we run pretty much the same type of season as the nascar guys, almost every weekend through the beginning of december. i will be in California tomorrow for our event friday through sunday and will be taking a redeye home monday night, get home around 4 am and work tuesday 10-7 at the office. we have next weekend off but the following 3 weekends we go to phoenix, homestead-miami and richmond. good thing i love to travel - plus what is better than miami in march, especially when it's below freezing here!!
i'd be more than happy to answer any questions you or anyone have and would love to see you guys at the racetrack!! especially you space!!!!
have a great weekend everyone, i'll come back and post pics of kenseth's burnout marks
02-26-2009, 05:32 AM
RE: `ChevySSGirl ~>Racing : )
---
ORIGINAL: ChevySSGirl

space, arent you just fantastic!

That`s what my mirror says 2 `me...
Would U please email my girlfriend & tell her that
LOL
Thank U `much : )
[:-]
I think you are the one that has a fantastic `job/position.
My grandfather always told me that happiness is getting
paid for a job that you love doing.
I shall keep racing schools on my top priority Dream List
4-Sure.
Keep us updated on your travels, and we look 4ward to
your future posts, & updates.
EnJoy your `Journey, but it is so much better when
you are the owner, and driving the
Super Awesome
03-04-2009, 11:37 PM
RE: `ChevySSGirl ~>Racing : )
---
ok so obviously i am back, was a very very very looooong weekend for me at work and a very nerve-racking redeye flight home on monday night, due to the weather back here on the east coast. almost all the flights to boston had been canceled due to the snowstorm, except ours. we thought we were the guinea pig flight, haha. but, we made it without incident and on time. we got in around 5 a.m. and i slept all day yesterday. i took a bunch of pics at the track and elsewhere (as i always do), i have them up on my flickr if anyone would like to peruse! i got some pics of matt kenseth's burnout marks from last week.
i have pics from almost all of my work trips, as tiring as they are we always have tons of fun. there's usually at least 1 night of alcohol involved so that always makes for tons of fun too!
anyway hope you all enjoy!
Jamie Lynn's Flickr - Auto Club Speedway 2.27.09 - 3.2.09
03-05-2009, 04:23 AM
RE: `ChevySSGirl ~>Racing : )
---
Hi `
Jamie,
I had to be in the office early this morning, but reading about your
exciting adventures, and your job with racing makes visiting
Thanks for your updates/posts, and awesome pictures of racing, and
what you do for

$'s
You are one lucky lady 4-$ure [8D]
`Space
is difficult to withdraw.
Short Break
lol
03-07-2009, 10:32 AM
Attempted to Correct Post ~> Failed : (
---
Spent the last 30 minutes + attempting to correct alignment/format
from old MCF Server
It did not work.
I hope our MCF Tech's can figure it `out & Correct/

Help

Help, I need ZomeBody, not just anyBody
R U out there SomeSpace ?
Going 2 drive me 2 `drink
Smoke
Oh `No
Wish the Reader of this a `Happy 4-$ure
Peace/Out/`Kid
03-07-2009, 10:54 AM
---
thanks space
i'm glad you enjoyed them! i'll be in phoenix next weekend (then richmond the following weekend then homestead the next then south carolina...then i finally get a weekend off
) and i will be taking pics as usual!
at least your current/new posts look ok on here, and the weird formatting certainly won't stop most of us from reading your old posts i'm sure. it'll just take a little extra effort, and your great posts are worth it!! :-D have a great day!
03-07-2009, 05:27 PM
I Envy U : )
---
Jamie, I envy you, but I am happy 4 U 4-Sure
Your `job is really X-citing, and sounds like so much `fun.
EnJoy your fun `Journey,

`Space
---
Last edited by Space; 03-10-2009 at

11:42 AM

.
03-11-2009, 05:12 AM
There U go, thinking again : )
---
---
Last edited by Space; 03-11-2009 at

05:14 AM

. Reason: Girlfriend reads all my posts : )